Good things for the month:
Things I could do without:
No complaints – it's all good.
What's up for November: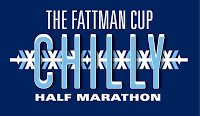 Chilly Half Marathon is next weekend! 

Running without a training plan. I haven't been without a training plan since I started working with Coach Bennett in July. And, while I have really enjoyed training, I'm looking forward to having a break and just running whatever and when ever I want.

Continue focusing on making my left ITB happy again. With some down time coming, I need to get this ITB beyond just the "manageable" stage.

Once again I'll be participating in the Holiday Bootie Buster Challenge organized by Amanda at Run To The Finish. The Challenge starts November 19 and is an awesome way to stay motivated during the holidays. Amanda does an amazing job pulling this Challenge together and there are some great prizes for added incentive. There's still time to register, so come join me  — and if you do sign up, please tell her I sent you 🙂
How'd your October go? What have you got planned for this month?