Over Memorial Day Weekend I ran what has really become one of my favorite races – Boston's Run to Remember!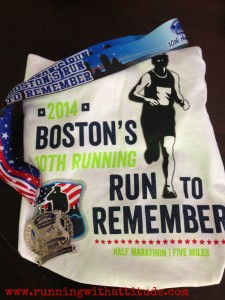 I've been trying all week to get around to writing a race recap but it kept slipping further and further down my to do list. So instead of my typical recap, it's coming at you Friday Five style….
Oh the Humanity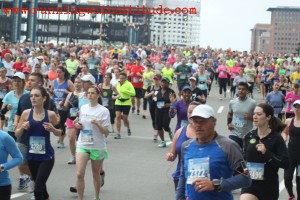 ! – I think the first time I ran this race in 2011 there may have been 7,000 runners total running both the half marathon and the 5-miler. This year there were 12,000 of us hitting the streets! The race announcer said if you totaled all the human mileage we'd reach half way to the moon!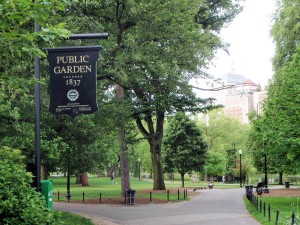 Sights and Sounds — Police cadet chants as they ran, "Boston Strong" cheers and cow bells, high-fiving police officers lining the route and super enthusiastic volunteers! Passing Faneuil Hall, Beacon Hill, the Public Garden and Boston's waterfront.
Keep it Simple — My runs have been so schizophrentic lately that I really had no idea what to expect from this race. My goals were simply to have a solid run and enjoy the race. Coach Bennett suggested that I just run by effort and not worry about a specific pace. For half a second I considered not even wearing my Garmin, but I knew I'm just too Type A for that! I did manage to not really look at it until I hit the final mile.
New Distance — While it was my third time running RTR, this was my first time running the 5-miler. I like this distance – it's not quite the all-out gut-wrencher that a 5K can be.  And I think it (or a 10K) makes a better pairing with a half marathon than a lot of the 5Ks I typically see (oh race directors are you listening?!)
Camaraderie and Community — From the expo the day before to volunteers throughout the course and at the finish line, I saw many friends and familiar faces — and I know there were so many more out there that day that I didn't get to see! Despite the large crowd there's something about this race that makes it feel very "local" if you know what I mean. I loved how encouraging runners were to each other and especially appreciated the older gentlemen who ran next to me in the final stretch. He must have sensed I was tiring – we chatted for a brief minute and then he urged me to get going and finish this thing…and I thanked him and I did!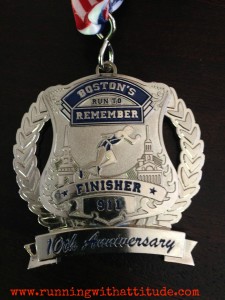 This is race is really well done. If you ever plan to be in Boston on Memorial Day weekend, I highly encourage you to register for this one!
Do you have a favorite race you've run again and again?