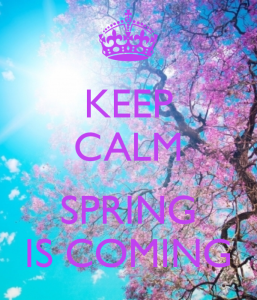 Just a mere 21 days until the first day of spring!
I am choosing to ignore the latest mention of snow heading our way for Monday (a lot can change between now and then!) and instead focus on the fact that we are inching closer and closer to spring running!
So with this last day of February being a rest day for me, I thought I'd dedicate this Friday Five to wrapping up February and looking ahead to March.
Race #1 completed — 13 to go! Ambitious but I still think it's do-able
Strength training and more strength training — While I was disappointed to have to put plans to run both a 10K and tomorrow's 10-miler on the back burner, I have no doubt it was the right choice and I will benefit from the extra attention to strength training.
Race schedule revised — With Coach Bennett's help, I've made some changes to my race schedule that I think will give me the build-up time I need to have a really strong fall race season and I'm psyched about that!
More outdoor miles vs. indoor — Despite the polar death-grip we continue to be in I actually managed to up my miles out on the road — always a win!
Simple goals for March — Continue to build the mileage smartly, while strength training like it's my job 🙂
How was your February? What are you planning for March?