This is my public plea to race directors everywhere (but especially here in New England) to please host more 10-mile races!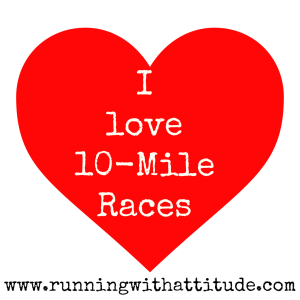 The 10-miler is hands down my favorite race distance – yet sadly I'm finding fewer and fewer options available.  So what's to love about the 10 mile distance? To me it's the perfect "middle distance."
Just long enough — The 10-miler is just long enough (vs. say a 10K) that you can ease into your pace for the first few miles before really diving into the race. Personally I struggle with 10K pacing!
Just short enough — That last 5K of a half marathon can get ugly for me sometimes…perhaps because I push too hard in the middle miles? I can still hold my form together for 10 miles, run strong and not feel like I'm dying!
Still a challenge — Racing double digits is a challenge! The beauty of 10-mile races is that they offer enough of a challenge without requiring too long of a training build-up to reach the distance – depending on your weekly mileage, you can be ready to race in just a few weeks.
What's your favorite race distance? Do you think 10-milers are getting harder to find?
Erika, Patty and April are all talking about their fave race distances today – Be sure to stop by and check out them out!