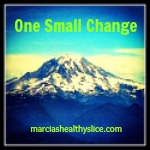 Believe it or not we're going into week 9 of the One Small Change Challenge!
Thanks to the challenge thrown down by Marcia from Marcia's Healthy Slice, I've been trying to make small changes that will hopefully turn into some good habits. So far my changes have included:
Week 1 – Daily plank routine
Week 2 – Keep my often-cluttered coffee table clutter-free
Week 3 – Increase my daily water intake
Week 4 – Repeated Wk 3
Week 5 – Daily rolling of my very tight quads and hamstrings
Week 6 – Take time each morning to set my plan/intentions for the day
Week 7 – Plan my strength-training workouts
When I got to week 8 last week I decided it was time to re-group. While some of my small changes were clicking along, others were not — my coffee table was drowning in an explosion of holiday catalogs and the daily rolling had dwindled to nothing. So instead of trying to pile on another change, I used week 8 to get back on track.
Moving on to Week 9, I'm once again sticking with my planning theme and focusing on meal planning. Last minute decisions on what to eat can sometimes lead to less than healthy choices. With the hectic schedule of the next couple of weeks heading into Christmas it's going to be especially important to have meals planned out.
Do you plan your meals?
What changes have you made lately?