So I should be wrapping up week 7 of training for the Black Cat 10-miler, but the reality is very little training has been going on. I went down with the flu two weeks ago, and while I thought I was over the worse of it last weekend, I'm learning recovery is not a straight line!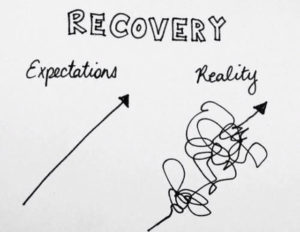 I spent this past week trying to regain my bearings – some moments feeling good, only to have someone pull the energy rug out from under me quickly. Mostly I've been dog-tired. I spent the week trying to let go of my disappointment at watching my training progress go south and focusing instead on what I could do and giving my body all the rest it was craving. So as a result, the week shook out like this:
Monday: Rest; plank streak day 43
Tuesday: Got back to the Superman, Squats & Twists Challenge with 60 squats plus planks
Wednesday: A hectic day of presentations for work really set me back. I had planned to get some cardio done, but by the time I got home I was toast. So I got my plank done and enjoyed a quiet V-Day dinner at home with J.
Thursday: Woke up feeling horrible and discouraged that I was sliding back and not getting better. It was a tough day mentally, but I gave in and let myself sleep a lot. (A plank did happen)
Friday: Finally woke up feeling good. I got some errands done, met a friend for lunch, and then met another friend for a 3-mile walk in time to catch this beautiful sunset. I finished the day with 70 squats and some planking.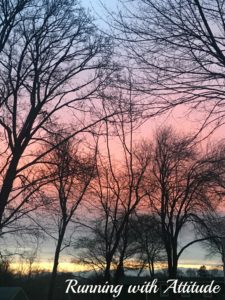 Saturday: Yeah ok so maybe I got overly ambitious on Friday. I woke up Saturday feeling drained so I kept it simple with a little yoga, planks, and 70 twists.
Sunday: Finally some running! 4 hard-fought miles thanks to 5:1 run/walk intervals.
Just a little less than 3 weeks until Black Cat and it looks like I'm going to have to re-think my goals for this race. It's a good thing I've got the Portland 10 Miler a few weeks later!
So tell me something about your week!
I'm linking up with Holly and Wendy for the Weekly Wrap!