Welcome to Running with Attitude!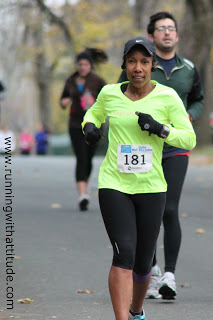 I'm Michelle and I started running in March 2010, and after a somewhat sketchy start, I eventually settled into Cool Running's  Couch to 5k plan. I ran a 5k in June and never looked back! Since then I've run 5ks, 10ks, 10-milers, fallen in love with the half marathon distance, and discovered a wonderfully supportive running community.
As mom to two boys and one lovable German Shepherd, running and working out helps to provide some much needed balance in my very busy life. In fact I'm proud to say that with the combination of running, Pilates and yoga, I'm in better shape now in my forties than I was in my thirties!
Running with Attitude: The one thing you can control in every situation is your attitude. I try to remember that every day, in every moment, I have a choice about what attitude I will embrace. When I decided to start my blog to chronicle my journey to become a runner, I knew the physical conditioning was only part of the challenge – the other side was mental. So I promised myself I'd go into this always bringing the best possible attitude.
So, this is my journey to improve my health and well-being — the good and not-so-good of training, nutrition and products I love…along with anything else life throws in the mix.
Thanks for coming along for the ride!
I love checking out new gear and sharing my opinion with others. If you are interested in having me review your product, host a giveaway, or both, please email me at runningwithattitude@gmail.com