All last week I had been agonizing over the hilly route, imaginary aches and pains, the weather & what to wear, my less than stellar final long run….you get the picture.
On Friday, I had a final call with Coach Bennett to discuss race strategy. Then Saturday morning I found this email from Bennett in my inbox:
Have a great run on Sunday.
 Be confident that you have trained well and
that you are well prepared to reach your goal.
I'll be cheering for you (virtually).
"Run hard, be strong, think big!"
Percy Cerutty, legendary running coach
I read and re-read that email several times on Saturday and once more before heading to the start. Surprisingly, for all my angst all week, I was very calm Sunday driving to the race. Timing worked perfectly and I snagged a parking space with about a half hour before the race started. I ate a banana, took a short warm up run, and since I had time I opted for the indoor bathrooms. Then I headed to the starting area and chatted with a few other runners.  One runner, who had run the race before, warned me where the hills were and in particular to be prepared for one last climb at mile 12…seriously!?!? But despite what I was hearing, I was surprised at how calm I was.
The start was a bit of a mess as there were no corrals to self-seed and it was quickly clear that some people were not where they should have been. The lack of seeding plus the narrow streets made it pretty hectic. Adrenaline definitely kicked in because I went out too fast! I kept checking my Garmin and knew I should reel it in, but I was feeling really good. I decided I'd just keep going for the first 5 miles, knowing that the hills were coming. I saw J and the boys just around the first mile marker. I settled in, enjoyed my tunes and the first 5 miles seem to fly by. I'd see my family again, this time my dad and brother were there too. I don't know how they managed it but my family seem to be everywhere on the course! (Other runners even commented on how great it was that they were out there, especially since in many spots they were the only spectators!)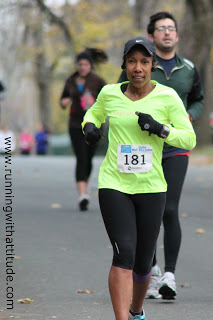 As I got into the hills, I let go of looking at my Garmin and ran by feel as Bennett had advised. The water stops weren't where I expected them so I didn't take a GU until around mile 6. Almost instantly my stomach was not happy. Hills
and
an unhappy stomach?!? I took a couple of short walk breaks, hoping things would settle and just willing myself to the 8 mile marker, as I knew there would finally be a big down hill coming. As we came out on to Comm Ave I got the biggest smile on my face — the downhill 🙂 I fell in step with another runner and we chatted a little and just soaked in being able to open it up again.
The course was open to traffic and the police were doing an amazing job of keeping runners and cars moving — until we reached a large intersection where Beacon St and Comm Ave meet. All of the sudden we had a police officer telling us to stop for the traffic. He apologized but said that some local area groups (including a church) had complained that they were holding up people in traffic too long because of the race. So there a group of us stood on a corner, trying to keep our legs going… waiting. I didn't even want to look at my Garmin and see the seconds ticking by. When we started again, my legs were not happy but at least I was running again.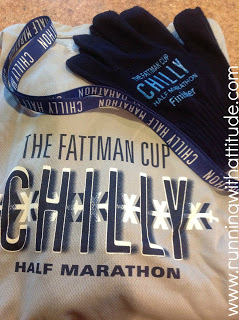 No bling?! Finishers' Gloves
Around 10 1/2 miles I spotted my oldest son running down the sidewalk towards me. He ran with me and told me he and J were leaving for his lacrosse tournament. So we wished each other good luck and I thanked him for sticking around for so long. (He did make it in time for the 2nd half of his first game!) The 12 mile marker appeared and I thought, ok one more hill. As I got to the top, I felt a little light-headed (despite having taken another GU at mile 10), I started to walk for a second and I heard a woman behind me say "Oh don't stop. I've been pacing off of you for the last couple of miles." I told her how I was feeling and she encouraged me to pace off of her. I promised her I'd catch up and that she should keep going; and soon I started to run again. There was one final uphill before the finish so I just tried to focus on picking off each runner in front of me. Then I came up on the woman who'd been pacing off me. I ran up beside her and urged her to push with me to the finish – and we came across the line together!
2:26 and a 3 minute PR! I was ecstatic!
I have lots of thought swirling in my head regarding this training cycle, but this post is long enough, so I will save those for another day.