It's Friday and time for another fun link up with Courtney, Mar & Cynthia. Our theme this week? "Five things I love about…"
Lots of things came to mind for this theme, but then I started thinking about a conversation I'd had recently with my youngest son about why I was working with Coach Bennett. His exact words were – "Why don't you just get out there and run?" Hmm…fair question. So I thought I'd share what I love about working with a running coach.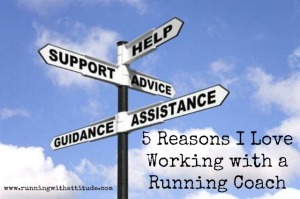 Customized training plan — A running coach will develop a personalized plan for you taking into account your current fitness level, running history and current goals. It takes all the guess work out of picking a training plan.
Progressing smartly — Closely tied with reason #1, is working with a coach will help you to progress at a pace that will hopefully minimize the risk of injury. Life happens and training runs are missed – I've found it very helpful to have someone to help figure out when and how to get the miles in (or, equally importantly, when to let them go!)
Move beyond comfort zone — While progressing smartly, I have also found it very beneficial to have someone to push nudge me out of my comfort zone. (Hill repeats and some of my more aggressive speedwork would never have happened without Coach Bennett!)
Sounding board — A good running coach is definitely part therapist. A coach can help you with the mental side of running – helping to keep you both motivated and focused.
Race strategy — Having someone who can help you objectively review your training, set realistic race goals and map out a strategy for getting there is a huge bonus!
Have you ever worked with a running coach? If not, would you want to?