When I received a preview copy of the new Runner's World Cookbook a couple of weeks ago, I was super excited! I love food and love to cook – so a cookbook dedicated to runners – um yeah that's a no-brainer for me…sign me up!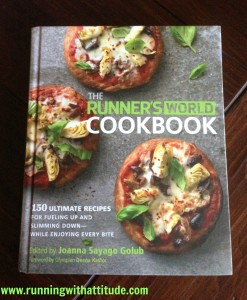 That philosophy – that you can eat well while fueling your body – is something we strive to bring to the pages of Runner's World every month. Over the years, we've published hundreds of recipes that show you how to create nutrient-rich and satisfyingly delicious meals that you can cook for yourself, your family and your friends. Now we've compiled the very best of those recipes into one cookbook that you can turn to no matter what your needs."
 — The Runner's World Cookbook
The first thing that struck me as I took my first scan of the book, besides how visually appealing it was, is that I really think they deliver on the promise of offering something for everybody! The introduction "How to Eat Like a Runner" offers some helpful nutritional information on key staples, including  protein sources and healthy oil options.
The introduction also provides my favorite feature – the recipe key. Every recipe in the book is indexed by a color-coded key at the top of the page so you can quickly and easily identify if the recipe is best for pre-run or recovery, as well as if it's vegetarian, vegan or gluten-free.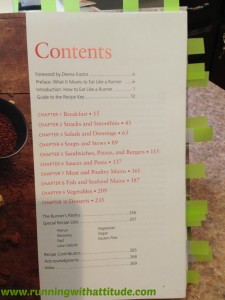 The 150 recipes are laid out over 10 chapters, covering everything from Breakfast to Snacks and Smoothies to Mains to Deserts. As you can see from all the little green tabs, I had no problem identifying a bunch of recipes I wanted to try 🙂
While I have not worked my way through all of those tabs yet, I can definitely say that what I have tried has been really flavorful!
These are just a sampling of some of the recipes I've tried so far – I still need to work on my food photo skills – and in some cases I started eating before I remembered to take a picture 😉
Overall, in addition to being delicious, the recipes are really straightforward, easy to follow and quick to put together. So you can get a great meal and then either get on with your run or the rest of your day!
I'm really looking forward to trying more of the recipes. A huge thanks to the folks at Runner's World for sending me a copy of the book to review!
The Runner's World Cookbook is available for sale now. I received a complimentary copy to review, however all of the opinions expressed here are my own.