While I do try to work in the occasional "naked" run, for most of my runs music is a constant companion. And, let's just say in the past couple of years I've tried my fair share of earbuds with mixed results.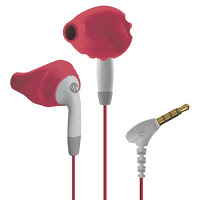 Recently I had the opportunity to try out a pair of the new Yurbuds Inspire for Women. Quite simply these earbuds did not disappoint!
These earbuds feature the same patented TwistLock™ technology and FlexSoft™ fit Yurbuds is famous for, while being designed to specifically fit the smaller ears of women.
For me, all of this translated into earbuds that stayed in place regardless of how much I sweated. They were super comfortable – basically I put them in and forgot about them. The sound quality was good, while providing enough ambient sound so I was aware of my surroundings.
The folks at Yurbuds were nice enough to send along an extra pair for one of you to win! To enter:
Simply leave a comment below and let me know what song inspires your runs (I'm always looking for new songs for my playlist!)
For an additional entry, tweet about this giveaway and please be sure to include the hashtag #InspireForWomen — come back and let me know you did!
The giveaway will be open until midnight Friday, November 2, and is open only to U.S. residents.
If you don't want to wait, Yurbuds Inspire for Women are now available at Target ($29.99 – and in 8 great colors!). Check them out, you won't be disappointed!
I received this product for the purpose of providing a review. As always, the opinions expressed here are completely my own.