While my goal this week was to ramp up the mileage, the nagging discomfort in left leg, quickly made it clear that I needed to play it smart and go easy on the running for another week. So how did things go?
Monday, 7/11: Strength day
Tuesday, 7/12:  3 easy miles, plus squats (the challenge continues).
Wednesday, 7/13: Strength session with Trainer Stacey. Wednesdays have really become my fave workout day of the week lately.
Thursday, 7/14:  An unscheduled rest day. I woke up just feeling really off and it never got better, so I passed on my 6 mile cutdown run and skipped the squats.
Friday, 7/15: 4 miles on the mill – I just was not up for dealing with the oppressive heat, so off to the gym I went. Oh, yes and there were squats.
Saturday, 7/16: Rest day scheduled. It was parents' visiting day at my son's overnight camp so this "rest" day included 4.5 miles of walking and hiking the trails in and around the camp.
Sunday, 7/17:  8 miles scheduled – 5 miles done. Saturday's camp fun followed by a 3+ hour drive home left me feeling pretty beat up Saturday night. I should have rolled, but instead I crashed on the couch and caught up on House of Cards. When the alarm went off Sunday morning, my legs already felt tired. The nagging pain in my left leg returned in the 4th mile, and as I reached mile 5 I knew it was better to listen to my body and stop. I walked another mile until my husband came by to pick me up.
What's so annoying about the left leg is it only gets aggravated on hills…and it's practically impossible to run in my town without encountering a hill.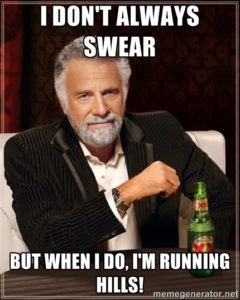 Icing and rolling does help – so guess what I'll be doing this week?! I'm also headed to the massage therapist – always a good thing! The RC coaches are tweaking my plan (there will be no hill repeats, as originally planned), and I'll give 8 miles another go next weekend.
So that's my #WeeklyWrap! Thanks to Holly and Tricia for hosting this linkup!