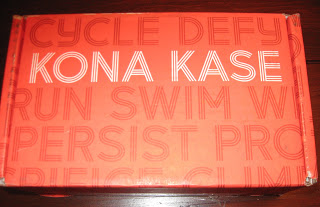 As I've mentioned on more than one occasion, I've been on the hunt for the fueling options that will work best for me.  So when I was contacted by the guys at Kona Kase I was definitely intrigued.

What is Kona Kase?
Kona Kase is a subscription service delivering a collection of endurance nutrition samples to your doorstep every month. (Each Kase is $15 and shipping is free.)
Kona Kase Goodies!
I received the September Kase which included 10 products: Hammer Heed, Honey Stringer Waffle, Cliff Bar, Cliff Shot Bloks, GU, PR Bar, Cytomax, Picky Bars and Urgent Rx Headache Relief.
I appreciated that the day my package arrived that I received an email from Taylor at Kona Kase saying that he saw that my Kase had been delivered and was interested in my feedback.
 So I'll tell you what I told him:
Loved the collection of products, (it's a good mix of products I was familiar with and others that either I wasn't familiar or had never tried).
It would be very helpful if some product information was included in the Kona Kase to help educate recipients about the products. 
Also, along with the product information, recommendations for how best to use the products (pre-workout, during a workout and recovery) would be helpful.
Taylor told me that starting with the October shipment that they are including educational inserts and are labeling the products pre/during/post-workout. And, soon recipients can go back to the Kona Kase site and order their favorite products from the Kases.
Overall, I really like this concept behind Kona Kase! There are so many products on the market, I think this is a great way to see what's out there and to sample until you find the ones that work best for you! (Hint to my family – a subscription would make a great Christmas gift 🙂 )
I received a Kona Kase for the purposes of a review. As always, the opinions expressed here are solely my own.