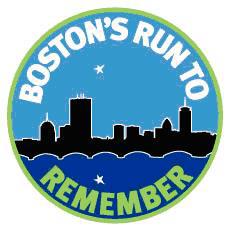 On Sunday,  I had the great opportunity to run Boston's Run to Remember. This is really a special race!  It is put on by the Boston Police Runner's Club to honor Massachusetts Law Enforcement Officers killed in the line of duty. Of course, following the Marathon bombings, this race took on extra special significance. There was a special tribute to the Marathon Victims and  Officer Sean Collier and his family and an acknowledgment of all of the police officers from the many cities all across the country who had come to run.
Three years ago this was my first half marathon – and I loved everything about the experience (it will always have a special place in my heart). I had planned to run last year but a respiratory infection put an end to my training. I registered for this year's race back in December – that's how much I wanted to run it again!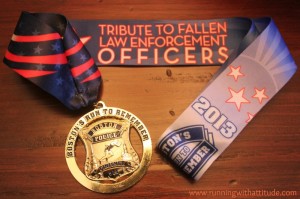 Despite the cold, rainy conditions, the energy among the runners was just awesome – throughout the race everyone was cheering, thanking police officers and volunteers and encouraging each other. As we moved through the streets of Boston, the crowd support was great – there were lots of chants of "Let's go Boston" and "Boston Strong"  – emotions were high all around. The moment I will never forget was coming around a bend on Memorial Drive and seeing a line of patrol cars with lights flashing – in front of each car was a police officer. They were cheering and high-fiving as many runners as they could – the line seemed to go on forever – I couldn't believe how many of them were there! Running along that line and high-fiving those officers, thanking them for being there and having some of them thank me for running – seriously?!  – something that will stick with me for a long time.
I was feeling great and moving at a great pace for the first 8 miles – my brother, J and my boys were out cheering – it was all feeling good….and then my stomach went south again and there were too many walk breaks. I continued to give it my all – in that environment, how could you not, right? I cheered and encouraged other runners, and happily accepted their encouragement in return. The volunteers and crowd support was great and I took it all in. I pushed as hard as I could right through the end – I ended up running my second fastest half…but I missed my target by 2 minutes. I'd be lying if I said I wasn't disappointed – I felt like my training had peaked at just the right time and that my goal was attainable. For the second race in a row, my stomach has been my downfall and I'm going to have to go back to the drawing board to figure out what's going on there. But, I am so very happy I got to be a part of this very special day – even when it got really hard I was still happy to be out there.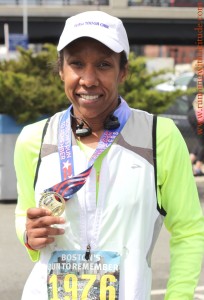 Love this race and I already know I will be back again next year! #BostonStrong!