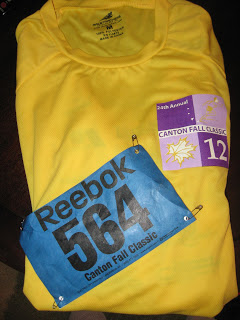 Nice tech shirt this year!
On Sunday, I ran the Canton Fall Classic. I just love this race! It's really well organized, it's a challenging course and, being a local race, it's fun to see so many familiar faces.
My goals for this race were simple: to have fun and to hit the target of 30:00 Coach Bennett had set for me — done and done!
Unfortunately, when I woke up that morning I had a good headache brewing and my left ITB was feeling crank…hmm not exactly how you want to feel on race morning. But I was psyched to meet up with my friend E and her son (who was running his first 5k!) and head over to the race, so I went through my usual pre-race routine and got moving. E's husband dropped us off, we picked up our numbers and race shirts and then milled around chatting with friends.
E was planning to start out slow with her son towards the back, so we wished each other good luck and I weaved my way to about the middle of the pack. Soon we were off! The start was a little crowded and I did my best to find an open lane to run without doing too much bobbing and weaving. But within the first half mile I found some space, I spotted J and the boys cheering and then settled in.
The climbs begin in the 2nd mile, my cranky ITB was not happy and I could feel my pace started to slip. There's a short down hill before the second climb and I started targeting people to pass as I pushed up the hill. Thankfully, most of the final mile is a straight flat shot with a final turn towards the finish. It was great to spot my guys again right before that final turn. Garmin time: 30:00/Guntime 30:28 — a new PR!
I caught up with a few more friends and then found E and her son. He passed me, by the way on his way to a 28:44 finish and E PR'd too! I checked out a couple of the vendors and it was nice to get to meet Nick Warren the creator of Perfect Fuel Chocolate – a new fuel option I've been trying out.
It was a fun morning and I'm already looking forward to running it again next year!