Let me start by saying that I don't think this post can do justice to the great time I had at ZOOMA!
Fun started Friday evening
Brooke, Felice, Tricia, Amy, me & Brae
E and I headed down to Falmouth late Friday afternoon. We checked in and headed to the expo so I could pick up my packet. First person to greet us was the wonderful Tricia! We did a quick tour of the handful of vendors there, met up with a few of the Ambassadors and chatted up Dimity (of Another Mother Runner fame!). Then we headed over to the "Mocktail Hour" sponsored by Hint water. It was great catching up with the other Ambassadors.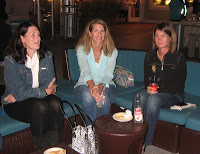 E, Felice & Amy
After a pizza dinner it was time to hit the room and get some sleep. When I called home to say good night to my kiddos, J & the boys told me that they were coming down to see the race (earlier we had agreed  that it was going to be too early of a start for them to drive down — apparently once I left my boys made it clear that they weren't happy about not being there to cheer and promised J they'd be up and ready to go!) Needless to say I was thrilled to hear they were coming!
Race Day
It was wonderful to be staying at the Sea Crest – to just step out the front door and be looking at the starting line. E & I worked our way into the middle of the pack and we were off! Our plan was to try not to go out too fast and to run together until we got to the 10k/half marathon split. The first mile was an out and back that brought us up the road about a half mile then back by the hotel – and there at the turnaround was J and the boys! What a great boost to see them right at the start…and little did I know how many times I'd see them during the race!
The first 3 miles flew by! We were going faster than either of us had planned, but the pace felt good and every so often I'd tell E the pace and make sure she was ok. As we hit the 3 mile marker I told E I was going to slow down just a little but she should keep pushing. We high-fived and she was off and I tried to settle in and prepare for what lay ahead….hills! And oh my the hills seemed to never stop – seemed like every time we turned a corner there was another hill. Lucky for me on the very first climb was my family again! The roads were not closed to traffic so J & the boys could literally drive the course – every couple of miles I'd look up and there they were again and again! It was the best! The comraderie among the women on the course was great – there were about 4 of us who stayed within strides of each other for a good chunk of the race and we would chat and encourage each other which really helped!!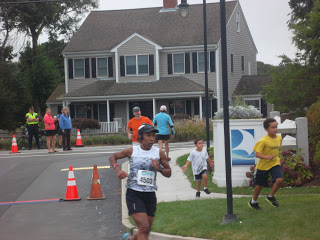 The hills took a toll on my ITB and I slowed considerably during miles 8 and 9. I pulled it back together for miles 10 and 11. Then came my least favorite mile – Mile 12, part of it was uphill and then there was this crazy out and back down a side street- uggh. (Big thanks to Nicole who shouted to me that I was in range of my goal!) Over the final mile I just kept picking up the pace and as I crossed the road to the entrance of the Sea Crest there was J yelling to me. I hit the final turn into the drive and my boys were running along behind me on the lawn. I crossed the finish line with a 2 minute and 21 second PR! The first person I saw was E – she yelled "You did it sub 2:30!" and gave me a big hug. When I asked how she did, she had PR'd too! Awesome!!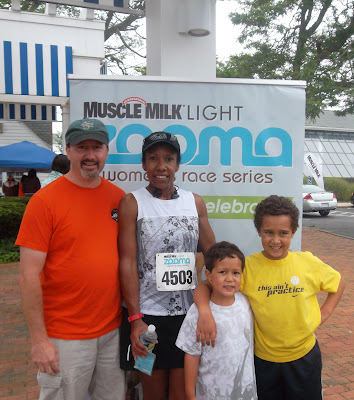 After catching up with my family and then seeing the women I'd been running with all finish (Nicole PR'd too!), E & I headed to the after party.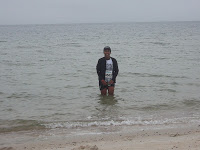 Yes I waded into ocean!
Ever since I was invited to be a Race Ambassador I have been super excited to be a part of this great race series! I just loved the spirit of this event and it reminded me why I love women-only races. I have to say that I was truly honored to been a part of ZOOMA's inaugural Cape Cod race!