Happy Monday!
I'm happy to say that last week felt like a turning point for me – dare I say it…I felt stronger…stronger during both my runs and my strength workouts. Still a ton of work to do but last week felt like real progress!
Monday 5/2: Strength work and PT exercises.
Tuesday 5/3:  This was suppose to be a run day, but I had an awful night of sleep and could not get my face out of the pillow when my alarm went off. The pouring rain did not help…and this run did not happen.
Wednesday 5/4:  Session with Trainer Stacey.
Thursday 5/5:  Still raining (seriously I was considering building an ark this week!), but I was up and out early – 3.5 miles done. Deep tissue massage in the afternoon (always a win!)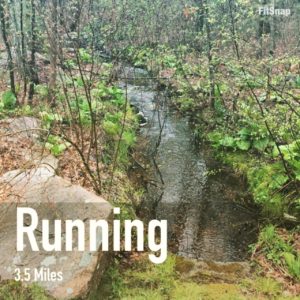 Friday 5/6:  Yoga.
Saturday 5/7:  Another soggy run – 4 miles.
Sunday 5/8:  A rare appearance of the sun, so I couldn't resist starting Mother's Day off with a 3 mile run to make up for Tuesday.
I also managed to get back on the daily plank bandwagon – thanks to Marcia's #plankyplanky challenge on Facebook.
The sun is hopefully here to stay this week so I'm looking forward to no more soggy runs, and some cross-training…aka, yardwork, to add to the mix this week. And, I'm hoping to meet up with a crew from Black Girls Run for a group run on Thursday!
So how'd last week treat you? Join the fun group of bloggers for the Weekly Wrap and let us know. Tricia and Holly are great hosts and I swear this link-up gets bigger every week!