This week my cranky ankle has forced me to find new ways to get some cardio in so I darkened the doorways of my gym (I cannot remember the last time I was there!), and re-introduced myself to the Arc Trainer.
After Tuesday's sweat fest that left my quads and glutes burning, I was quickly reminded why I love this machine. So for this week's Friday Five, I'm sharing some reasons to hit the Arc Trainer!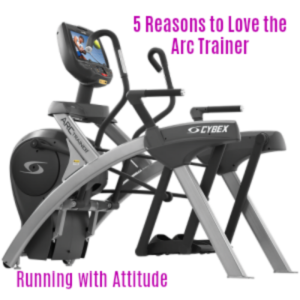 Cardio without the pounding – the Arc Trainer really allows you to get your heart rate up for a good cardio workout without the pounding of other machines. I have never been able to get my heart rate going on an elliptical or stepper, so for me, this is a huge win!
Easier on the joints – According to Cybex, who makes the Trainer, the arc path of the foot pedals moves legs in a biomechanically correct pathway and avoids allowing the toe to move behind the knee, which can stress the joint. The Arc Trainer is designed to only generate force during the weight bearing cycle of your gait, with the goal of increasing your calorie burn with reduced stress on the ankle, knee, and hip joints.
Range of muscle engagement – the Arc Trainer offers a wide range of variable resistance and inclines. Higher inclines emulate a stepping motion, targeting your quads, while lower inclines with increased resistance target your glutes and hammies. If you use the Total Body model then you can also use the moving handles to work your arms and chest. (Side note: the Trainer has two models – Total Body and Lower Body – lucky for me, my gym has both!) I like that the Trainer's display screen features a "muscle map" so you can see which muscles you're targeting as you adjust the incline and resistance.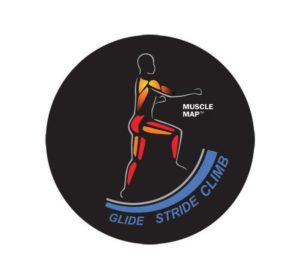 Program variety – the ability to mix and match the range of resistance settings and inclines means you can continuously challenge yourself. The Trainer also features both high and low-intensity pre-programmed workouts. Basically, the way you use the machine can be very different from one day to the next – helps to keep the boredom factor down, which is tough on any cardio machine!
Offers both strength & endurance – you can strengthen multiple muscle groups while improving your endurance, getting a bigger bang for your workout!
Check out 5 reasons to use the Arc Trainer! #FridayFive
Click To Tweet
I was first introduced to the Arc Trainer more than a year ago by Trainer Stacy, but with time away from the gym had forgotten just how effective it can be. I'm now looking forward to making it a consistent part of my training!
I'm joining in with Rachel from Running on Happy and Lacey & Meranda from Fairytales and Fitness for the Friday Five link-up!