I realized the other day that I haven't done one of these types of posts since the spring so now seemed like a good time to share some of my fave…and not fave…things at the moment.
Lovin'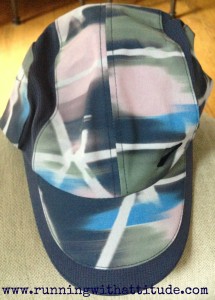 Brooks Running Hat — I received this hat as part of an awesome #TrainingRockBox that Rock 'n' Roll and their sponsors sent out to all of the Rock'n'Blog team – and it's become an instant fave. I don't think this picture does the hat justice – it's a cute mix of purples and blues and has great mesh venting on the sides and even a zipper pocket!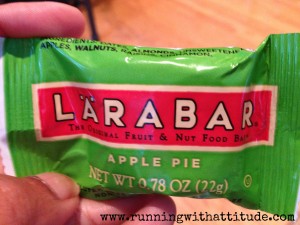 Larabar Apple Pie — Apples, nuts, spiced with a little cinnamon – what's not to love? Especially in these little bites.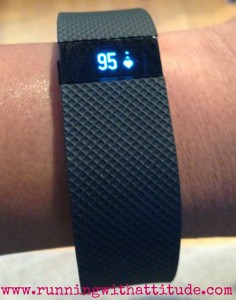 FitBit Charge HR — I got a FitBit for my birthday and have been having a lot of fun playing with it these past couple of weeks. (I may do a full review after I've had a chance to wear it for a while.)
Saucony Zealot ISOs — Back in June I mentioned that I was going to give these shoes a try – and so far I've been really happy with them. As promised, the Zealot ISOs are light weight and have a similar ride to the Kinvara, but with much more cushioning – which my legs seem to appreciate lately.
Not Lovin'
Forerunner 10 — My Forerunner woes continue – It still seems to take forever to find a signal, and now it's new glitch is the auto pause – it stays paused well after I've made it pass a traffic light…and the other day, it paused on its own. Needless to say, I've turned the function off. Back to customer support…
So tell me – what are you lovin' lately?