I was so excited when these shoes arrived. I loved their look and so wanted to love them on the run.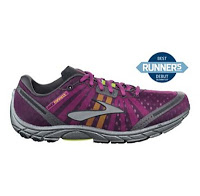 Source: Brooks website
The minute I put them on the first thing I was struck by was the feel of the high arch support. I'm not really sure why Brooks thought that design element was necessary. While it didn't hurt, I didn't like that it was so noticeable just putting the shoes on and walking around my kitchen.
The Connects are definitely a narrow shoe. I didn't find them tight, but they are a much closer fit after wearing both the Saucony Mirage and Kinvara 2s. The sole is narrow so I felt like my foot was spilling over a bit. I did like the snug heel fit and the fact that they are feather light!
I tried the Connects on the road, track and treadmill – but the only time I really enjoyed running in them was when I was on the track.Why the track? Perhaps the surface…I'm not really sure. I was on the fence about them after each run, but then on my final try I started to feel serious foot discomfort. Back in the box they went and off I went to the Brooks website for a chat with one of their reps. The recommendation this time? The PureFlows. Since I had originally ordered these shoes from Road Runner Sports, my next call was to them…again the recommendation was the Flows. So the Connects are on their way back and the Flows should be here tomorrow.
I plan to wait until after Saturday's half before I try the Flows out – the Kinvaras will be my "go to" shoe once again. I'll be curious to see if the PureFlows are a better match for me.
Do you try new shoes? Or are you loyal to one brand/model?

*(I purchased the Brooks PureConnects and all opinions expressed here are solely my own.