Happy Friday!
This has been a loooong week and I'm so happy to see Friday come!
I'm linking up once again with Courtney, Mar and Cynthia for the Friday Five. Today's topic "What's in your gym bag?" couldn't be more appropriate since I've been living at the gym lately working on getting stronger – in fact I had a great session with Trainer Stacey this morning that I'm sure I'll be feeling the rest of the day 😉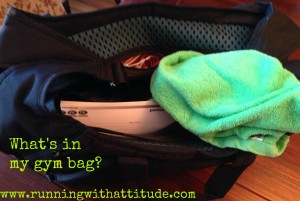 Koss FitClips — I've made no secret of my love for music when I'm working out and since I'm not always a fan of the music playing in the gym, my  Koss FitClip earbuds are a must have.  I got to review these a year ago and they've been a fave ever since!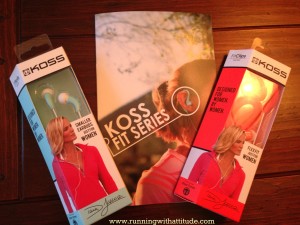 Strength training plan – I find I'm doing much better being consistent with my strength work now that I'm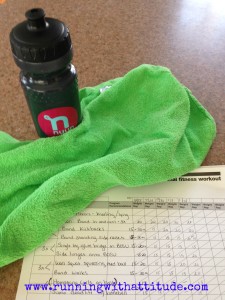 following a training plan just as I would do for running.  Seems so obvious right?!
Towel — My old gym didn't offer a towel service, and even though my new gym does I find I never leave home without a towel in my bag.
Water bottle — Gotta stay hydrated right? And yes, there's usually Nuun Energy in that Nuun water bottle – again it was a another product I got to review and have just kept right on using.
Multiple Shoes — One of the things I love about my gym bag is that it is roomy enough for multiple pairs of shoes. So if I hit the treadmill or elliptical I throw on my Wave Riders, but if I'm doing strength work I'd rather have the extra stability of my Asics Gel Pursue. The Gel Pursue definitely proved to be more shoe than I wanted for running, but I'm finding they offer the great stability I want for strength work – win! I also keep a pair of Nike Studio Wraps in the bag for when I head to my Pilates Barre classes. Yes I know…I have shoe issues 🙂
And speaking of my gym bag…I would be remiss if I did not mention just how much I love my Apera tote (you can check out my review here). It's got a ton of pockets and holds everything I could possibly need with room to spare!
So what are you hauling around in your gym bag?