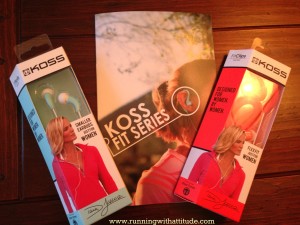 This post is sponsored by FitFluential on behalf of Koss Fit Series Headphones. All of the opinions expressed here are, as always, my own.
It's always fun to kick off the new year and a new training cycle with new gear. And, as I mentioned yesterday, for me that also includes new playlists. So given how important music is in my training, you can imagine how happy I was to be given a chance to try out Koss Fit Series headphones!
Koss' female designers teamed-up with Gold Medalist Dara Torres to create the world's first headphones designed specifically for women by women. I received both the FitBuds and FitClips headphones.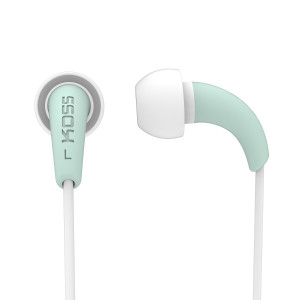 At 33% smaller than any earbud Koss has ever created, the Koss FitBuds are ideally designed for smaller ear canals. I loved the fit right out of the box, comfortable and secure –  they do come with three different sizes of ear cushions so you can find your ideal fit. They are ultra light-weight and delivered great sound, even during a wind-swept run last Saturday. Did I mention that they're sweat-resistant too? Win!
I was pleasantly surprised by the Koss FitClips because I've not had the best track record with over-the-ear headphones. I find this style of headphone usually pinches – so not the case with the FitClips!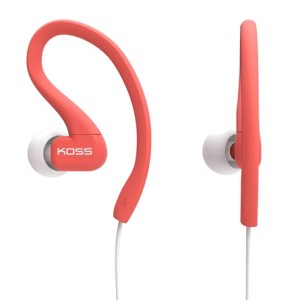 They were flexible and very comfortable. Like the FitBuds, they included three different sized ear cushions, are equally light-weight and sweat-resistant. I loved that I could just put them on and forget about them – no fiddling necessary.
Both the FitBuds and FitClips come in five great shades and retail for $29.99. They're available at Wal-Mart, Best Buy, Walgreens, Kmart and Sears.
Overall, I loved the quality of both headphones, the comfortable fit they provide and the great sound they delivered – making them must have fitness gear in my book! With my training kicking off this week, I know I'll be putting both headphones to good use both in the gym and on the road.
You can connect with Koss via Social Media