This post and giveaway are sponsored by Nuun. As always, all opinions expressed here are my own.
Since I started my half marathon training plan, I've also started testing out different options for fueling my runs. In the past, a big area where I've fallen short is hydration. Over the last couple of weeks I've been getting better with some help from Nuun.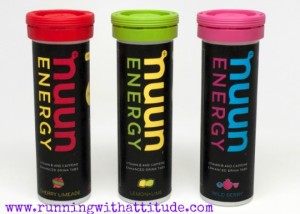 Just as I was getting ready to start my half training, Nuun reached out to see if I was interested in testing out their newest product line Nuun Energy – perfect timing! I had tried the original Nuun tablets out a couple of times last summer and found them to be a nice alternative to traditional sports drinks – which my stomach just wants no part of! So why didn't I stick with them? Pure laziness on my part truthfully – I got so obsessed with trying to figure which gel/Chomp/etc. to use that my hydration plan kinda took a backseat and I went back to just water.
But knowing my hydration needs some extra attention while training in the summer I knew I wanted more than water. Enter Nuun Energy! I'm happy to say that the best things I liked about the original Nuun haven't been changed – all natural with no added sugars and less than 12 calories. Nuun Energy provides 40 mg. of caffeine and 5 essential B vitamins for more sustained energy. It comes in Wild Berry, Cherry Limeade,  and Lemon-lime — I tried out the last two flavors and was especially fond of the Cherry Limeade.  Overall, it's light, refreshing and easy on my stomach – a definite win for my workouts! Additionally, I've actually taken to drinking it in the late afternoon when I typically start to fade and begin dreaming of iced coffee concoctions!
Ready to try it out for yourself? One lucky reader will win Nuun Energy tablets. The giveaway will run from now until midnight on 8/16. A winner will be announced on Monday, August 18th. Good luck!