I received samples of WIN Detergent  for the purpose of a review through my affiliation with Sweat Pink. As always, all opinions express here are my own.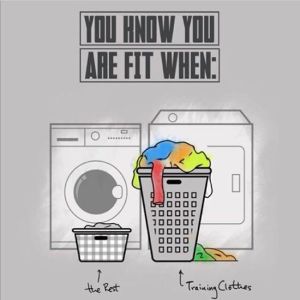 If you follow RWA on Facebook (and really you should!) then you may have seen this photo in my feed a couple of weeks ago. It made me laugh because this is often what laundry looks like in my house. Between my husband's workout clothes, my oldest son playing football, while the youngest is playing hockey, plus my own workout clothes, you can easily see how this pic is far from fiction! And if any of you have kids who play sports, you know just how ripe their clothes can be…we won't even discuss my husband's stuff!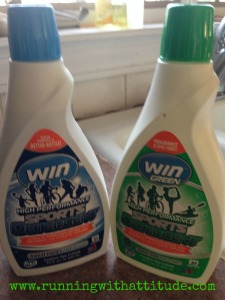 Suffice it to say, we sweat hard in the RWA house, so when I was offered a chance to test out WIN Sports Detergent I couldn't wait to try it. I received two bottles of Win – the original and Win green.
WIN offered a nice light  scent, while WIN Green, as you might expect had no fragrance at all. When put to the test, both formulas delivered on de-stinking the clothes. The green formula wash smelled "clean," while the original formula left the clothes with a pleasant fresh scent, without the cloyingly perfumey smell of other brands I've tried that do more to cover than remove the stink. The original formula did fall short on removing the stains from my son's hockey socks, and does make me wonder how it might  fair against the grass stains of my boys lacrosse clothes come spring. (I only tried WIN Green on my running gear – so no stain-removal required).
Want to see if WIN can stand up to the test of your workout clothes? WIN is giving me the opportunity to do a giveaway for all RWA readers. One winner will receive a full sized bottle of each, the original and the green formulas. If you don't want to wait for the giveaway and want to buy it now, you can also use the coupon code WINGIVE1 for $1 off a bottle of WIN.
To enter the giveaway, please follow the Rafflecopter instructions below: