Until about a month ago, my gym bag has been the swag bag I got from the Philadelphia Half – your basic drawstring bag – not ideal by any means. And when I headed to yoga I'd usually carry my gym bag and then carry my yoga mat in a separate strap.
Yep! That's how I rolled…until Apera sent me one of their Yoga Totes.
The Apera Yoga tote fits everything and looks great doing it.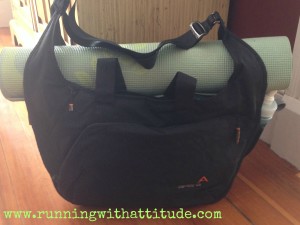 Apera Bags are antimicrobial and have vented – say goodbye to gym bag stink!
Wipeable linings
Built-in shoe compartment
Loaded with pockets both inside and out – including a washable insert to store your sweaty clothes
Water bottle pocket on the outside – so no "sweating" all over my clothes and other stuff
Shoulder strap's unique design gives you the perfect spot to carry your yoga mat (I've discovered it will also hold a foam roller too!)
(My camera's been acting cranky so to do this bag justice I'm borrowing some pics from Apera's site)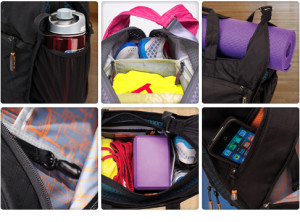 Needless to say, I am loving this bag! Not only does it meet my gym/yoga needs, but I think this bag has enough space and features to serve as a great overnight bag. While I will say that initially I thought the $119 price tag was a bit steep for a gym bag – now that I've lived with it a while I think it offers the versatility and durability to last for years to come.

Apera currently has a couple sales: 40% OFF entire Blue line of bags; and, all of their Duffel Packs, any color, are 40% OFF.
 Would you like one for yourself?
Every month Apera Bags is giving away a bag to one winner, and for the month of February the bag they are giving away is the Yoga Tote! All you need to do is sign up for their email newsletter. Then, at the conclusion of each month, they will randomly draw a name from their list of subscribers. Just go HERE and follow the instructions!
Disclaimer: I was provided the Apera Yoga Tote free of charge. As always, the opinions expressed here are completely my own.