It is Friday once again and it's finally starting to feel like spring around here! Whoot whoot! Before I rush out the door for what looks like a pretty nutty day ahead, a little of this and that to share  😉
Nominated! So my little ole blog's been nominated for the Top 50 Health & Fitness Blogs of 2014! It's a great group of blogs and I'm happy to be listed among them. If you're so inclined to cast a vote (no crazy commitments required), please click HERE – blogs are listed alphabetically.  Thanks for the support!!
Webcast with Dave Scott.  On Saturday, April 12th X2PERFORMANCE® is hosting a live webcast with 6- time IRONMAN® World Champion Dave Scott! The webcast will take place at 5PM EST and Dave will be answering questions as well as providing advice on strength-training and nutrition. All attendees will receive an exclusive offer from X2PERFOMANCE at the end of the webcast, plus be eligible for randomly selected prizes. You can register through this link. I've got a couple of scheduling glitches I'm trying to work out so I can catch this.
Vacation planning. Now that the family vacation is booked, I'm trying to get organized early to avoid the usual last minute scramble. So out comes the "to do" list – we know I love a list! And towards the top of that list, I realized I need a new swimsuit. Now I've promised myself this is not going to send me over the deep-end. I'm going to try to embrace Carla's wonderful 2-step approach and move on!
Weekend!!
The forecast is looking good so I'm planning to spend as much time in my garden and yard as possible! Also on tap are the boys' lacrosse games, baseball practice begins and a ten mile run (haven't seen double digits in a while).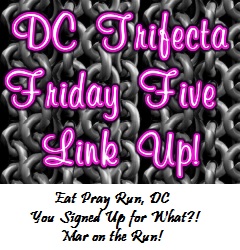 Does swimsuit shopping cause you to panic?