Happy Friday! This week the ladies of the DC Trifecta (Courtney, Mar and Cynthia) are asking everyone to share 5 blogs you love. Well I do read a fair number of blogs and there was no way I could just whittle it down to five. So instead, I thought I'd share five running and fitness resources that I turn to again and again.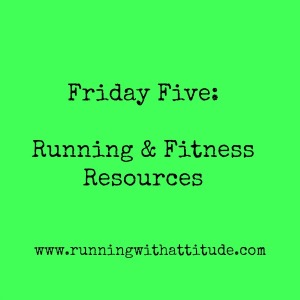 International Association of Women Runners — This is my coach's site so you may say I'm bias. But, if you're a women of a certain age (ahem…over 40) this is great resource to check out!
Runners Connect — A team of running coaches weighing in on all aspects of running and training.
Natural Running Center — A wealth of info on all things "natural running" related, including shoe reviews.
Fuel Your Future with Tina — Tina is an elite athlete with some great training tips to share.
FitFluential — Again, I may be biased here, as I am a FitFluential Ambassador, but I think the FF blog offers a great range of fitness/healthy living posts.
Now, I'm very excited to say I'm off for a date with an Alter G treadmill – a full report coming soon!
So tell what are your favorite running and fitness resources?