Happy New Year!
The week between Christmas and the New Year is always one of my favorite times of the year. It's usually all about spending time with family, relaxing and recharging. And this past week I stuck with that tradition – though I did have to acknowledge a little email in my inbox on Monday from the RC coaches noting that I'm 12 weeks out from the NYC Half.
Hmmm…a not so subtle hint that it's time to return to a training plan. Thankfully the RC team recognized that I was still in holiday/vacation mode so the plan for this week was fairly light.
NYC Half Marathon Training Week 1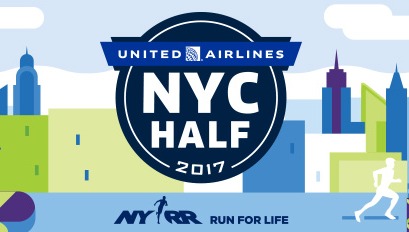 Monday: Day after Christmas is always "Family Pajama Day" – no houseguests, no meal prep, just the 4 of us hanging out – a perfect day!
Tuesday: 800 meter repeats on the treadmill.  (What was I saying about it being a light week?!)
Wednesday: Too much family fun = no workout
Thursday:  Strength day – even got my youngest son to join me! There were lots of planks, squats, deadbugs, bridges and lunges – it was all about core and legs.
Friday: 3.1 miles – J joined me for running the last virtual 5K of the Rock'n'Roll Winter Runningland Series. Conditions were much icier than we expected so this was part run, part shuffle.
Saturday: Saturdays are usually my long run day, but we started the day very early shuttling out to the middle of nowhere for my son's hockey game. By the time the game was done and we made the drive back I just couldn't will myself back out into the frigid temps to run. And once I spied the forecast for Sunday, my decision was made.
Sunday:  40 degrees this morning! My ideal running weather – so I got in 5 miles while the family slept. Happy to get the new year off on the right foot 🙂
Yeah…pretty easy peasy this week and I'm fine with that! I'm pretty sure the RC coaches will not be so kind during this upcoming week.
Did you have any big plans for New Year's Eve? Are you training for anything yet? 
I'm linking up again with Holly and Tricia for the Weekly Wrap. Please be sure to stop by and checkout both of these great ladies, and join in and share how your week went!