When I first signed on for the #13in2013 challenge there was a big part of me that thought – "What are you thinking?!?" 13 races in one year? But I love a challenge – so why not?!
After my first race of the year was canceled due to a Nor'easter, I started my quest for 13 in February with the Frosty Virtual 5K. The run benefited the American Cancer Society and I ran in honor of both of my grandmothers.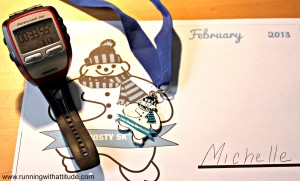 Next up was the B.A.A. 5K – the first race of the B.A.A. Distance Medley! The race was held the Sunday before the Boston Marathon and the course was set up so we would finish the final "right on Hereford, left on Boylston" stretch and across the Marathon's famous finish line. Definitely a fun race!
Later that month, I ran the inaugural Newport 10 Miler.  Unfortunately this would be the first of a couple of races this year where my stomach totally turned on me 🙁  Stomach issues aside, there were lots of good things about this day including meet-ups, a beautiful course and hanging with my running buddy E.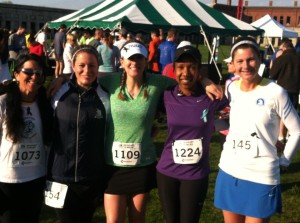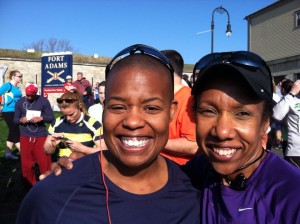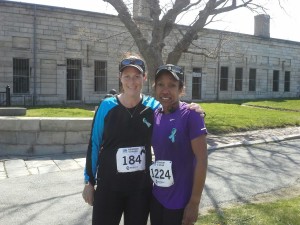 Race #4 was Boston's Run to Remember Half Marathon. I love this race and running it shortly after the Marathon bombings, it took on special significance. The race honors fallen police officers and police officers lined many sections of the route. The level of emotion, the chants of "let's go Boston!" and all of those officers cheering and high-fiving runners – it was an experience I will not soon forget.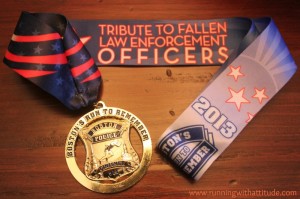 Race #5 was the B.A.A. 10K  — Have I mentioned how much I love a Boston Athletic Association race?! Despite the heat-fest, I managed a negative split on the back 5K but missed my PR goal.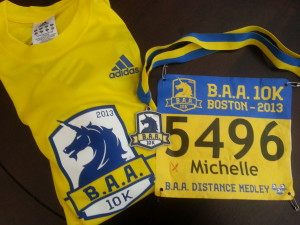 Next up was Finish at the 50 10K — This race is part of a 4th of July celebration at Gillette Stadium with great activities for the whole family. My oldest son ran in the kids' races and then I took on the 10K. Even with a start time of 6 PM, it was soul-sucking hot! All of the runners took a "we're all in this together" approach and there was lots of cheering and encouragement. Post-race the family enjoyed a great picnic and awesome fireworks display!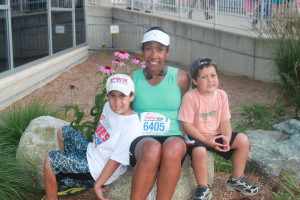 Race #7 was definitely the best race of the year as I ran with my son for his first 5K at the Narragansett Running Festival!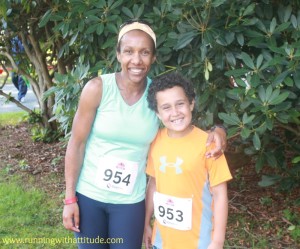 I finished off the summer with Race #8 – Jill & Jen's Virtual Birthday Bash! We were on vacation in the Finger Lakes region so this was a beautiful run with the lake and mountains as my backdrop.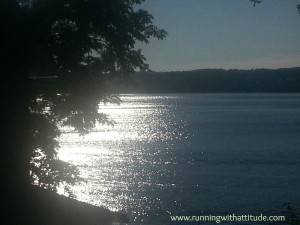 Race #9 was my first trail race! I hadn't planned on it being my first tail race – let's just say the course description wasn't very descriptive! It was challenging and quite the experience to say the least!
Race #10 was the Wicked Half Marathon. The original plan was to treat this race as a test to make sure I'd finally put an end to my stomach troubles before taking on the B.A.A. Half, my fall goal race. Well let's just say nothing went according to plan – I woke up not feeling so hot that morning and by mile 5, the wheels had come off the wagon. Some how I finished that  race, though there was a great deal of walking involved, and I was down and out for another week after!
A week before Race #11, I took a fall during my long run that left me with a seriously bruised and swollen knee and a very tender foot. I was determined not to miss the BAA Half – it was the last race of the Distance Medley! Also, it was my running buddy E's first half – how could I not be there?! This is the race I'm probably the most proud of completing!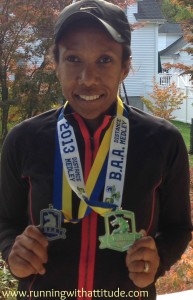 The rest of the fall became about healing both the knee and especially my foot. I had to take a pass on my favorite local race and my last half marathon planned for early December. As my foot healed I found I could tolerate some short runs so I finished my 13 races with two virtual races supporting two great causes: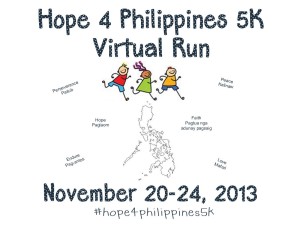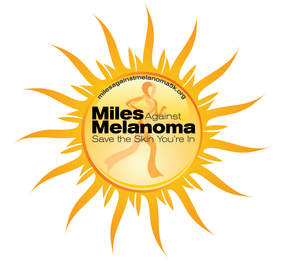 After such a great year in 2012, I had had much higher hopes for 2013.  I'm disappointed with the way this year played out, but I'm far from discouraged. I learned a lot about myself this year – I think I'm much more mentally tough and know that will serve me well in the future. I'm even more determined to reach my goals in 2014 and cannot wait for the #14in2014 Challenge!