Given that the last Friday of the month falls on the day after Christmas, Marcia decided to do her monthly "runfessions" today – and once again, I'm in.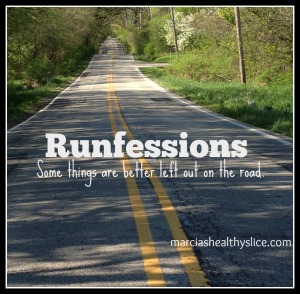 Runfession #1 — I'm very excited that the lottery gods smiled on me and I'm in for the Cherry Blossom 10-Miler! After playing around with lots of race possibilities for 2015, there's something about having this one firmly on the calendar that makes me finally ready to pull the trigger on some others.
Runfession #2 —  I have so been enjoying running without a watch that I'm actually starting to wonder how I'm going to get use to it again once training starts.
Runfession #3 — I really miss my running buddy E, and it looks like her prognosis to return to running is not looking good. While weekend runs with my husband have been fun, there's nothing like catching up with a girlfriend while logging the miles.
Runfession #4 — Working with the trainer has shown me in no uncertain terms just how little attention I've been paying to strengthening my hamstrings and glutes. It was no secret to me that I'm quad dominant, but these workouts have been a leg-shaking eye-opening experience!
Runfession #5 — I've been invited to another event at Athleta tonight – oh be still my heart! Is it wrong to offer to my husband to buy my own Christmas presents 😉
There….I feel better now! Do you have any runfessions to share?