Every month Marcia, from Marcia's Healthy Slice, shares her "runfessions" – a chance to cleanse your sweaty soul. I love these posts. Marcia always invites her readers to join her and so this time round, I'm in.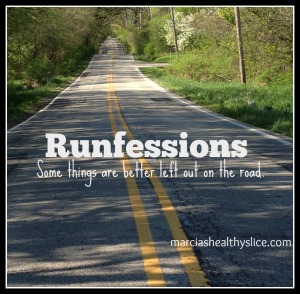 Runfession #1 — While I'm feeling better about my training than I have in weeks, I confess that I am no where close to where I wanted to be at this point. But there's still 8 weeks until Philly…
Runfession #2 — I'm seriously struggling with my motivation…there are definitely days where I want to chuck the training plan, let go of my race goals and just go back to running purely for the fun of it.
Runfession #3 — I've decided to take the Smuttynose Half off the table.  While this was never a goal race, I will admit that I was secretly hoping to take advantage of the "flat, fast course" and kick some serious asphalt. Given #1, Coach Bennett and I agreed that if I can't go and run it really easy that I shouldn't do it….and I know myself and I just don't think I can…so no Smuttynose this year.
Runfession #4 — I really miss my running buddy E. She's been dealing with an injury and it's been ages since we've run together. I'm sure that's not helping my motivation on some days. But I do so appreciate that she's one of my biggest cheerleaders!
Runfession #5 — I'm loving my hill workouts…I know right? But I have to admit that Thursday's hill repeats have become my favorite workout of the week! And I've been crushing them!
There….I feel better now! Do you have any runfessions to share?