This post was inspired by my friend Steve, who after debating for a while….ok a long while, recently announced that this will be the year he runs his first half marathon! Since his decision, he's been sending me text messages with all kinds of running questions…and I've been enjoying sharing in his excitement of the newness of all of this. It also got me thinking back to my first half marathon and wondering in hindsight what I wish I had known when I started training.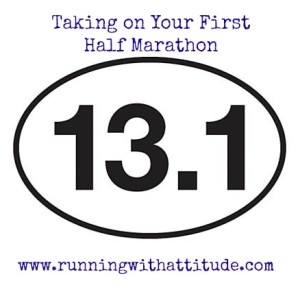 Start with a proper base —  Before taking on half marathon training, have a good base  (running 3 days a week, at least 10 miles/week). If you don't have this, get there before you dive into a training plan.
Find a plan — First timers are best served by following a training plan. A plan will help guide you to build your mileage slowly. It is important to recognize that not all half marathon training plans are created equal, so take the time to review a few to find one that fits where you are in your running and seems manageable with your other commitments (family, work, etc). For example, don't pick a plan that has you running 5 days a week if you know that's not going to fit into your life.
Recognize that life happens — Do your best to follow the training plan, but all is not lost if you miss a run or two.
Cross-training is worth it — Doing some low-impact cardio on your non-running days will help your overall fitness and keep boredom at bay.
Rest is not a four-letter word! — Those rest days in your plan are there for a reason; don't fall into the trap of thinking you're only training when you're physically active.  Rest and recovery is a critical part of your training.
Remember why you started — When you're in the thick of training, getting out for you next run or pushing through a tough run can sometimes feel like a chore. Don't lose sight of why you decided to take on this new challenge in the first place and celebrate milestones along the way!
What do you wish someone had told you before your took on your first half marathon?