As I mentioned in a recent post, I've returned to the track for some of my *ahem* speedwork. Our local high school recently resurfaced their track and I am lucky that it is just a quick 10-minute drive from my house.
This track stays fairly busy even when school's not in session and since the resurfacing it has been one hopping spot! I've just been twice in the past two weeks, but it's clear to me that some could stand to learn a thing or two about track etiquette. So with that in mind, for this week's Friday Five, I offer some tips for running on the track.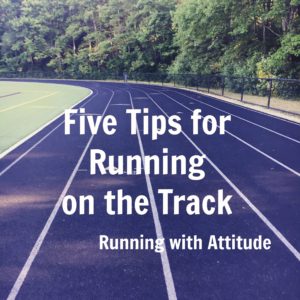 Run counter-clockwise — Unless otherwise posted or you have the track to yourself, you should run counter-clockwise.
Choose your lane wisely — If you're walking or doing a slow warm-up, please stick to the outer lanes. The other day I watched two women decide to take a leisurely stroll on the inner lanes, oblivious to the runners trying to navigate past them.
Pass on the left — Pass people on the left when possible, and feel free to call out "on your left" or "track" to give plenty of warning. If you are the passee, please don't take it personally and shoot dagger looks at the passer (as I've had one or two do to me in the past), just slide wide right and keep doing your thing.
Keep it moving — As a general rule of thumb, when you're not running or walking, step off the track to take a rest or to stretch. When you finish the interval you're running, be mindful of those around you before coming to a complete stop, and then step off to the side until you're ready for the next round.
Leave your furry running partners and strollers at home — I can't make this up – I have seen both! Dogs and strollers can do damage to the track surface. So leave both at home – your fellow runners will appreciate it.
5 tips for running on the track #runchat
Click To Tweet
I'm linking up with Rachel from Running on Happy and Lacey & Meranda from Fairytales and Fitness for the Friday Five link-up!