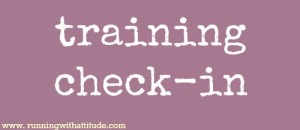 So for a brief moment I thought about skipping this week's check-in – Why? Because I didn't want this to turn into a whine-fest about what a disaster my 10-mile attempt was on Saturday. I'll not bother to re-hash the details accept to say that I really need to get out of my own way sometimes!
But, for as down as I was about it on Saturday morning, I went on to have a great weekend and I'm over it and moving on. I think I would have been less upset about the way things went if it weren't for the fact that I really wanted to get one double-digit run under my belt before Newport. No point dwelling on it right? Besides if I let one run define me I'd really be in a world of trouble!
Apart from Saturday, last week shaped up to be a pretty good week.  I had blocked out forgotten how hard 1000 meter repeats can be! But there's no better motivator than knowing a massage awaits! And now two classes in, I'm completely in love with my Pilates barre class!
So up for this week?
After Saturday's meltdown, Coach Bennett advised two days off – and for once I didn't fight him on it. So no workout today, but I am going to take advantage of the beautiful weather and spend some more time on garden clean-up.  Then along with daily core work and rolling, the rest of the week should look like this:
Tuesday — 8 mile progression run
Wednesday — Pilates Barre class
Thursday — Track work (a ridiculous number of 400 m repeats!)
Friday — Cross-training
Saturday — B.A.A. 5K
Sunday — 6 miles
How was your weekend? What have you got planned for the week?