I received the Wahoo Tickr X for the purpose of a review. As always, all opinions expressed here are my own.
With school year-end events, the boys lacrosse tournaments, work and life in general, I am sometimes finding myself needing to be more flexible than usual to get a workout in. And in these situations of late, my go to workout has been to strap on my Wahoo Tickr X and crank out a few rounds of their 7-minute workout.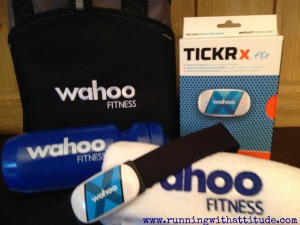 The Tickr X is a heart rate monitor with lots of fun features. With the Wahoo Fitness App (both iPhone and Android), the Tickr X syncs with your phone to track your workouts, runs, cycling and swimming. Best of all, it has up to 16 hours of memory so you still track a workout sans phone and sync up later. The Tickr X measures your movement so beyond your heart rate, it will track your distance and stride rate when running and your cadence when cycling.
Since I've only just returned to running I haven't tried the run features yet – but I plan to! What I have really enjoyed is using the Tickr X with Wahoo's 7 Minute Workout App. This was my first time working with a heart rate monitor of any kind – I've always been leery of the whole chest strap thing. The Tickr X band is soft plastic and much more comfortable then I anticipated, and once I got moving I quickly forgot about it.
The 7 Minute Workout app features 12 high-intensity bodyweight exercises, counts reps for each 30 second interval, tells you when to rest and congratulates you when you set a new personal best. At the end of the 7 minutes, it gives you a great recap to show you if you've completed more (or fewer) reps than the previous workout and your heart rate throughout. For me, 2 -3 rounds made for a good workout and I was still done in well under a half hour.  Perfect for when you're short on time! There is also an alternative 7 minute workout and a 7 minute Pilates workout available for 99 cents each if you want to mix it up a bit.
So what do you think? Want to try one for yourself?
Win it! The great folks at Wahoo Fitness are giving away one Tickr X to a lucky RWA reader!