It's Sunday and just like that another week has flown by! After being able to step back a bit last week I'll admit it was a little tough to find a rhythm this week.
Monday – Rest day
Tuesday – The plan called for hill repeats and I decided to hit the mill to bang these out. I had the gym to myself, which was a good thing given the amount of cursing that may or may not have taken place 😉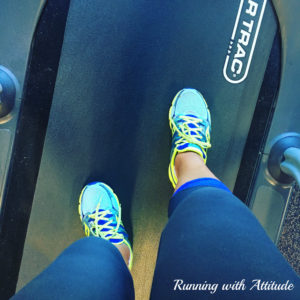 Wednesday – Scheduling and homework drama with my youngest (school projects are the bain of my existence!) got in the way of my weekly meet-up with my friend E so there was no strength workout.
Thursday – The plan called for a 4-mile cutdown run but nagging hip pain (yeah it's back) had me pushing this run until the afternoon. When it came time to head out the door I got a text from E to see if I was up for meeting for a walk. I opted for the walk over my run. We got a brisk 3 miles done, and time spent with a friend did both mind and body some good!
Friday – I booked some time with my massage therapist to see if I could curb the hip issue. After some trigger point work, my hip was feeling much better, but the therapist warned me not to overdo it. (Cue the foreboding music!)
Saturday – It finally felt like a fall morning…cool and crisp enough that, while I wasn't ready for long sleeves, I did break out the gloves! My hip started to protest around 5 miles and so I hit 6 miles and called it a day.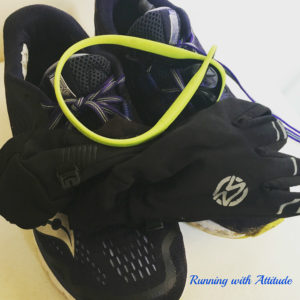 After a quick change, I headed to my boys' school homecoming, where I spent a lot of time on my feet covering the cross country course to cheer my oldest and his teammates on. After his race, I left J and the boys to race home, change again and head to a work event. A lot more time on my feet, and I finally made it home by 1:30 a.m.
Sunday – Rest day. So yeah I didn't do the best job heeding the therapist's advice, and needless to say, my body's not super happy with me today. Beyond stretching and rolling, not much else will be happening.
It's frustrating to be back to dealing with the hip issue again. My therapist did raise the point that she didn't think I had given myself enough recovery time once it started to feel better again before I dove back into training again..and as I was thinking things through during Saturday's run, I'm thinking she may be right. Once again, I'm at the same point in a training cycle where it's time to up the speedwork and mileage, and my body starts rebelling.
The return of the cranky hip is certainly not doing much for my lack of running mojo so hopefully, things will get back on track this upcoming week.
Have you ever pushed returning to running too quickly after an injury?
I'm joining I'm joining Holly & Tricia for the Weekly Wrap. Be sure to stop by and show these great ladies some love.