Just sharing some random race thoughts this morning….
On Sunday, I'll be running Boston's Run to Remember 5-Miler. This will be the first time I've "toed the line" for a race since last year's BAA 5K – it's been 13 months!
There's been no speed work or hill work …so there are no expectations.
My goal for Sunday is simply to go have fun and enjoy being among runners. I love the atmosphere of this race and always welcome a chance to run through the streets of Boston!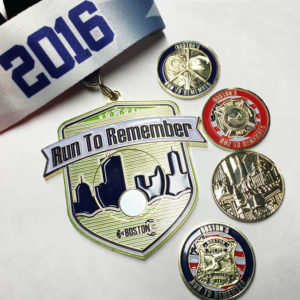 I also love that this race honors the fallen. This year's medal includes the coin of your choice in honor of fallen law enforcement, fire fighters or emergency personnel. Still not sure which one I'm going to pick.
Which coin would you pick?
Tell me something random…
Linking up with Amanda for Thinking Out Loud Thursday