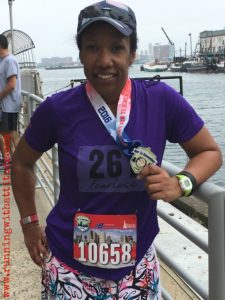 I know I have said this so many times, but must say again Boston's Run to Remember is one of my all time favorite races!
On Saturday morning my husband J and I headed in town for packet pick-up, and as always it was a breeze. There were a ton of volunteers manning the tables, so getting our bibs, t-shirts and commemorative coins took no time at all. I chose the coin honoring the police and J selected the one for EMS. We did a quick loop around the expo, and while I eyed the Oofos, I just couldn't bring myself to spend $45 on flip flops! On our way out, we stopped to take in the banners acknowledging all of the fallen law enforcement.
On Sunday morning, the race started at 7, so we were up and moving by a little after 5. After facing heat and humidity on Saturday (90's), it was a relief to wake to cooler temps (60's). The outdoor parking lots were quickly filling, so we decided to opt for parking at the Seaport Hotel (the host hotel). Yes more expensive, but the clean indoor bathrooms were a huge win in my book!
There was a moment of silence for State Trooper Clardy and Officer Tarentino, both recently killed in the line of duty, followed by the National Anthem and then we were ready to go. I was so glad the race organizers opted for the wave start – we were in the 3rd wave and crossed the starting line in just about 12 minutes. The first mile was still thick, but we managed to find space to run comfortably. I knew I was a little amped up at the start and definitely went out faster than I probably should have. I told J I needed to slow down and encouraged him to go ahead, but he had told me he was planning to run with me and was happy to go at whatever pace. We saw a friend at the first water station and stopped for a quick hello.
The miles clicked along, while we chatted up other runners,  and thanked volunteers and police officers working the course. My left hip/knee woke up shortly after we passed the mile 3 marker, and got more cranky as we went along. I paid no attention to time though, this race was all about enjoying the experience and the camaraderie of runners. Before I knew it we were back on Atlantic Ave and getting ready for the final turn over the bridge to the finish. I will say the climb up the bridge felt l-o-n-g, and I was grateful for the enthusiastic spectators. The best part is once you crest the bridge, it's a nice downhill into the finish. J and I agreed to push it into the finish – and just like that we were done.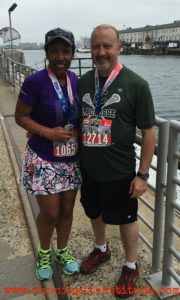 Post race, boys scouts were handing out medals and there was an abundance of water, bagels, bananas and various snacks (I do urge the organizers to consider adding chocolate milk and Gatorade). We knew our boys would be up by now and waiting for us to get back for breakfast, so we took a few photos and headed for the car.
From start to finish this is a well organized race! The pre-race communication was excellent (including switching from the half to the 5-miler), packet pick was a breeze, and the along the course there was plenty of water, Gatorade and enthusiastic volunteers. If you get the chance to come to Boston over Memorial Day weekend, you should run this one.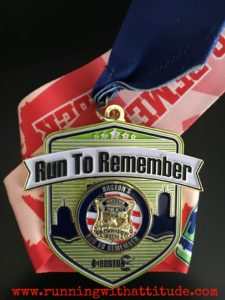 Overall I was happy with the way things went – while I can see improvements thanks to the new strength training routine, there's still work to do, and I've got lots of notes to share with Trainer Stacy this week. I've got plenty of time until my fall races, and am getting the details on my training plan finalized (more on that later). For now, I'm happy that my long hiatus from races is over.
Linking up once again with Holly and Tricia for the #WeeklyWrap