If you follow me on Twitter (and I hope you do! – @RunAttitude) then you may have seen yesterday's tweet:

Yes! Yes! Yes! After 8 long weeks I've been green-lighted! Despite the desire to throw on my running shoes and sprint out of my doctor's office I know I've got to be smart about this. So as I venture back out on to the roads, here are a few tips I plan to bear in mind:
Take it slow: My doctor's parting words to me and crucial advice to follow so I don't end up injured. To start, I will be more focused on time on my feet vs. miles covered.
Build core strength: Focusing on building core strength — abs, hips, and glutes — will improve both stability and balance – critical after such a long layoff.
Cross-train: Every workout cannot and should not be a run. Now that I can run again, it is tempting to want to only run, but I know that it will be more important than ever to give both muscles and ligaments a break from the stresses of running. Cross-training will help improve my endurance, especially while my mileage is low.
Be kind to yourself: It's easy to get caught in the trap of comparison, but it's important to remember that everyone's comeback is different.
Set realistic goals: While I'm very goal-oriented, I know it's going to be important to have a mix of goals – both big and small. I'll admit that I do have my eye on a couple of races…and I may have even registered for one 😉 Having smaller goals along the way will help me both track my progress and stay motivated towards the bigger goal. The key is to take it one day at a time, celebrate small victories and be grateful to be running again.
Have you ever had a long lay-off from running?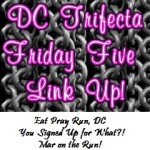 I'm linking up with Courtney, Mar, and Cynthia for the #FridayFive link up. They're sharing their favorite cool weather drinks so be sure to stop by.