Another first for me – on Monday I took on the Tufts 10k for Women! My first race at this distance and definitely the biggest sporting event I had ever participated in!
My friend Kathy was also running, so we decided to head into together on the train. It was great to have Kathy there, we just chatted away per usual and it really helped me from being nervous. We got to the race, I had my final debate about Bondi Band and sunglasses vs. visor (went with the visor) and then we checked our bags. While Kathy went for a quick warm-up I made one last pit-stop — the lines were long but not too bad, gave me a chance to stretch and chat with a bunch of people.
Getting to the starting area proved to be very chaotic — narrow picturesque Boston street meets 7500+ women! Kathy &  I did what we could to not lose each other while trying to inch our way to the front of the 10 minute group. Finally the elite runners were off, a big cheer went up from the crowd and we started shuffling our way towards the starting line. Kath & I high-fived, wished each other luck and were off!
The first mile was all about weaving in and around people. It was great to see my Hubs, the boys and Kathy's family right where we planned. (Can you tell I'm a little excited!)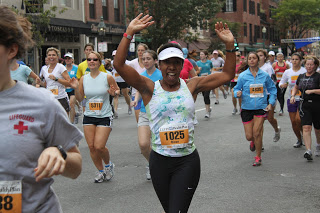 The energy among the runners was great! And it was awesome to see the elite runners flying past us at the first loop back along the river. Throughout the race, everyone was very encouraging, cheering each other on!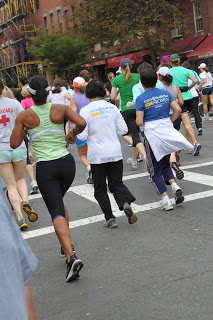 I was feeling pretty good until just after the 3rd mile marker, then the angry left knee reared its ugly head! I had been worried about my knee all last week, but had started to feel hopeful when I got through Thursday's speedwork without pain. Mile 4 became a very long mile and my plan to make the second 5k faster than the first wasn't happening. My pace fell off but I tried to just focus on my tunes and take in the great views of Boston as I crossed the bridge back over the Charles River.
As we made the turn down Commonwealth Ave, I knew my hubs and the boys would be at the far end and that gave me a lift. The knee continued to nag at me but now the 5 mile marker had come and gone and I could see the family!  There were lots of husbands and kids along this stretch and high-fiving the kids was fun! A special thanks to the two little cuties who yelled "You're awesome!" after I high-fived them!!
By now I could hear the race announcer and music so as we made the final turn I just pushed with whatever I had left – keeping my promise to myself to always finish strong! I swear I had a huge grin on my face for that whole final stretch! And as I crossed the finish line I got a high five from Joan Benoit-Samuelson – who had finished and continued to stand there and greet runners – how cool is that!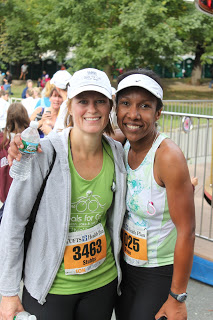 Here's Kathy and I post-race!  We hung out for a bit, got some food, let the kids play and then did a quick run through the expo. I happily introduced Kathy to Bondi Bands and picked up a SpiBelt for myself!
This was just my second race this year, and each race is definitely a learning experience. My official time was 1:07:53, and while I didn't run the race I'd hoped for, I think I did a pretty good job of staying within myself and pushing through the knee issues. And I had a good time doing it!