It's Friday! And my legs are toast!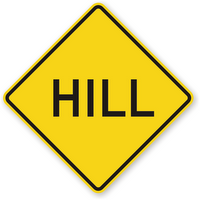 It has been a good week for workouts – my runs have felt good, though yesterday's hill work was killer hard and did leave me wondering – "How will I do this for the next 5 weeks?!" The plan called 8 x 250 meter hill repeats with 5 miles of warm-up and cool-down. Somewhere after the 5th or 6th repeat I think I may have started to question my coach's sanity, and by the final repeat there was definitely a fair amount of cursing involved.
While I have done an occasional hill workout on the treadmill to break-up the monotony of a mill run, this is the first time I have hill work as an integral part of my training plan. I have always read that hill work will make you a stronger runner, and I'm definitely up for that benefit! I also freely admit that I've always had a bit of a mental block when it comes to hills – I can easily psyche myself out, so I'm counting on this devotion to hill work to help me break through that barrier.
After yesterday's torture session, I know the key to taking the sting out of hill running is proper form. I went back to re-read a timely article my coach included in his most recent newsletter from the International Association of Women Runners – which you can read HERE. I also broke out my notes from my Chi Running workshop and their Hills and Trails DVD. Lean into the hill, quicker turnover and increased arm swing…Yes I'm going to become a student of hill running! I'll let you know how it goes.
So tell me – do you find hill running easy? Is it a regular part of your training?