As some of you may remember, this summer I signed on to be part of Team Sony Walkman. Of course, the biggest perk of being on this team is the opportunity to try out Sony's new wireless Walkman. I received my first Walkman headset back in July and have been running with it ever since.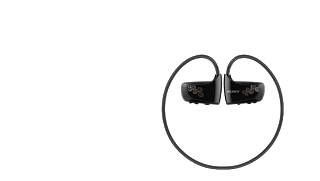 The new W Series Walkman
What I have loved:
It's wireless! I love that I can just put in the earbuds and go, without any cords to worry about knocking out mid-run (as I've been known to do)
It is lightweight — when I first read about and saw the design I was a little concerned about the unit being heavy or awkward, but once I picked up the package I realized that wasn't going to be a problem. It's very light! 
It's water-proof – and let me tell you running in the downpour that was the Providence Rock n Roll put that waterproof promise to the ultimate test! And I can say it never faltered – it was great to just run and never worry about it.
It gives you Sony-quality sound – in my book, 'nuf said!
The initial set up on my laptop was fairly straight forward (you do need a Windows operating system) and you can drag and drop songs and playlists from iTunes in just a few minutes. Having all of the controls right on the headset did take a little getting use to – I hit the wrong button more then once on my first couple of runs.
I do miss that, because of the design, I can't run with just one ear bud in when I want- something I like to do in races. Also, I can't plug into the treadmill TV if I want to catch up on ESPN while I'm logging time at the gym (still bringing traditional earphones for that).
Overall, I've been really pleased with my Sony Walkman and just as I was going to post this review, I got a great surprise in the mail — the newly redesigned W Series Walkman! The new design is even lighter and smaller, and I think it has a much sleeker look. The control buttons are now split between the two earbuds (instead of all being on the right side as in the earlier version) — I'm finding it easier to manage. It's also nice that it comes in white as well as black. All-in-all a nice upgrade!

(I was provided with the Walkman but the reviews expressed here are completely my own.)