This morning was a mental run – you know the kind where you can't get out of your own head….where the suck monkey is in full voice, strong and clear…where you are bargaining with yourself almost from the first step (just run to the mailbox, telephone pole, next song, etc.)
Yeah – it was that kind of run this morning.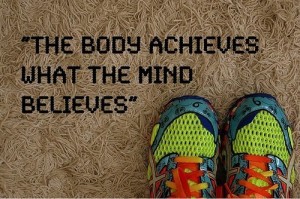 In truth, more than a few of my runs have been like this lately. The runs have had very little to do with my physical side – the legs have been more than willing to go. Just can't seem to get out of my own way at the moment. I know the heat and humidity of the past two weeks has certainly not helped…but it's not all about the weather.
I am really looking forward to my fall race schedule but it is becoming increasingly clear to me to have the outcomes I want in the fall, I've got to spend more time training the one muscle I need above all else – my brain.
How do you mentally get yourself on the right track?