Slow Start — Let's just say I didn't light the world on fire with my first week back to training. A combination of sick kiddo home most of the week with a virus and then not feeling fab after spending 24/7 with said sick kiddo, lead to a less than stellar start to training. So the goal is to re-group this week and make sure I get all of my miles in…and get enough sleep to keep the virus at bay.
Health Activist — At the end of last week I was notified that I'd been nominated for the Best Kept Secret Award in the Third Annual WEGO Health Activist Awards.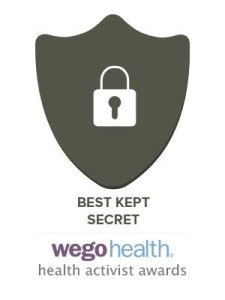 Pretty cool huh? I still have no idea who was behind my nomination – so to my mystery supporter I say a big "Thank you!"
If you get a moment, please go HERE and endorse me – I'd really appreciate it!