Editor's Note: This post was originally published in winter of 2016, and has been updated.
As I've made losing a few pounds and refocusing on proper nutrition one of my goals for this year, I've been taking a close look at where I've been slacking. One clear area I need to pay better attention to is my water intake. I find without the heat and humidity of the warmer seasons I can easily let my hydration slip.
Cold Weather Challenges
Staying properly hydrated should be a priority every day, regardless of the season. In the winter, while you may not be contending with soaring temps, you are dealing with dry air – both outdoors and indoors – forcing your body to work hard to humidify the air you breathe, while at the same time, your skin is zapped of its natural moisture. Research shows that you feel 40 percent less thirsty in cold weather thanks to the constriction of blood vessels as your body works to keep your core warm. Maintaining your core temp takes priority over fluid balance, and your body is fooled into thinking it's properly hydrated. So waiting until you feel thirsty could be too late – you're probably already dehydrated.
Did you know that dehydration can lead to both brain fog, muscle cramps, and fatigue? Dehydration can also increase the risk of hypothermia and frostbite when exercising outside – no bueno!
So here are some quick tips for staying hydrated this winter: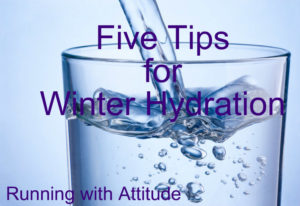 Carry water during workouts — Stating the obvious here, but I'm still surprised at the number of people I've spotted in the gym lately working up a good sweat, but no water bottle in sight. While my runs right now are short enough to avoid carrying a water bottle, if you're prepping for an early spring marathon or half marathon, you're going to need to bring water on those long runs.

Keep a water bottle front & center — I keep a water bottle or glass on my desk during the workday. But, if you're like me and sometimes get too wrapped up in what you're doing and forgetting to refill, then consider using a water bottle with a time marker.  I've been using this Hydr-8 Water Bottle  (Amazon affiliate link!) to help keep me on track- I love that I can take it easily from my desk to my car.
Eat your fluids — Use soups to help boost your hydration in addition to keeping up your intake of water-rich fruits and veggies.
Make it a morning ritual — Many people wake up dehydrated, so start your day off downing a glass of water before you reach for your coffee.
Dress up your water — If straight-up water bores you, try adding fruit, cucumbers or mint to your water.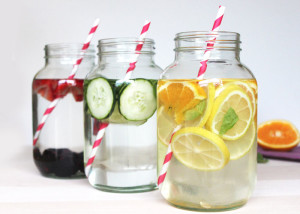 Sharing 5 tips for staying hydrated this winter #fitlife #fitness #running
Click To Tweet
I'm linking up with Meranda, Lacey, and Rachel for the Friday Five.