One thing I really struggle with is my hydration – unless it is the dog-days of summer, I have to really make a conscious effort to drink enough water. And I'll admit, sometimes I just get bored with plain old H2O. Often you'll find me putting either lemon, cucumber or mint in my water to give it a little umph and keep me drinking.
I was recently introduced to Omega Infusion – a zero-calorie enhanced water that not only provides you with hydration, but also with natural energy from B vitamins and antioxidant vitamin C, and much needed Omega-3s.  Once I heard the description I had to give them a try.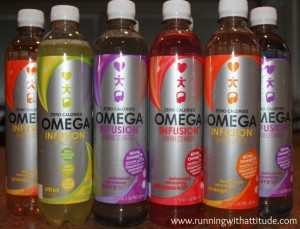 Omega Infusion comes in berry, fruit punch, citrus, and orange. I thought they all had a good flavor – offering more taste than most "flavored" waters I've tried, without being too strong. My favorite was berry. My oldest son got in on the act too – trying all of them with me and declaring them "delicious!" Fruit punch was his favorite, with the citrus a close second. In fact, since they've appeared in our fridge, he's been grabbing a bottle after school, instead of making his usual pitch for lemonade – win!
Each bottle contains 80mg of Omega-3s EPA/DHA. Did you know that the FDA qualified health benefit of Omega-3 fatty acids is a reduced risk of coronary heart disease (CHD)?  It is a fact that our bodies cannot naturally produce the nutrients found in Omega-3 so we must get them from outside sources.  Recent studies have shown several potential benefits of Omega-3's, including:
Improvement of cognitive function in both children and adults
Help with psychiatric disorders such as depression
Increased mental focus and motivation
Reduced stress levels and mental fatigue
Reduced macular degeneration
Strengthened red blood cells which may improve blood pressure, heart rate and vascular function
Possible anticancer benefits
Potential to counter inflammation
Higher level of satiety and appetite reduction
Omega Infusion provides nice variety when you get tired of drinking plain H2O – with some added vitamin benefits! You can find Omega Infusion in Giant Stores, Stop & Shop and HEB stores – check out their website http://www.omegainfusion.com/ for details. You can also follow them on Facebook (here) or Twitter (here).
This post was sponsored by Omega Infusion. As always, all opinions expressed here are my own.