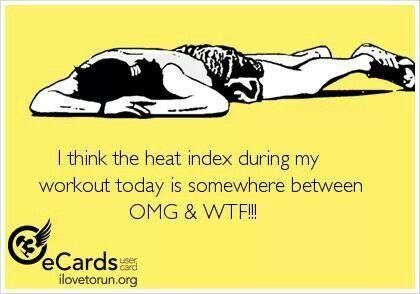 Yeah, this pretty much sums up this week's workouts! Another heat wave hit the Boston area this week, and by Tuesday I had given up even bothering to open the weather app on my phone. The workouts were a little all over the place, but here's how it went down.
Monday — Since I ran Sunday and was planning to hit the track Tuesday, I took Monday as a rest day. I had dinner with a friend I hadn't seen in months and we had an epic catch-up session that may have involved a couple of pomegranate martinis. So good, but so not the "hydration" to have before track day 😉
Tuesday — Suffice it to say I didn't get to the track, but I did get an ab/hip/leg workout in.
Wednesday — 90% humidity had me seriously questioning the whole running thing, but I eked out 3 miles.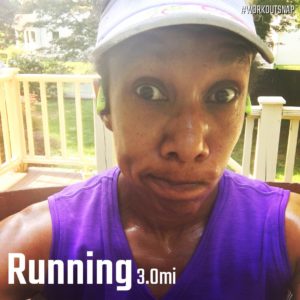 Thursday — Another lower body strength workout followed by a massage!
Friday — I had planned to make up Tuesday's track workout, but for some crazy reason I woke up at 3:30 in the morning and I was wide awake brain racing! Uggh. After lying awake for what seemed forever, I must have finally fallen asleep and promptly slept through my alarm. I didn't have enough time to get to the track before work so it would have to wait.
Saturday — Finally made it to the track! I was determined not to skip this workout and it was my best of the week!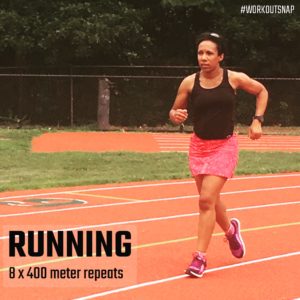 Sunday — Saturday's long run became today's run. Since I was still feeling the effects of a busy Saturday and I knew the humidity was supposed to finally relent a bit, I opted to sleep in and take on my run in the afternoon. It was still a heat-fest but having my husband along helped keep me going, and we made it through 6.2 miles.
All-in-all, not a bad week. We're getting a ton of rain tomorrow and then cooler temps (relatively speaking) will be rolling in. I'm looking forward to getting a break from the steam bath!
I'm linking up with Holly & Tricia, and this week's guest host Darlene.