Rachel, Lacey and Meranda are inviting everyone to share holiday gift ideas for this week's Friday Five. Since I have already shared my Holiday Gift Guide, I thought I would take this chance to share about a new favorite  –  StrideBox!
(Disclosure: This post and giveaway is sponsored by StrideBox. All opinions, as always, are my own.)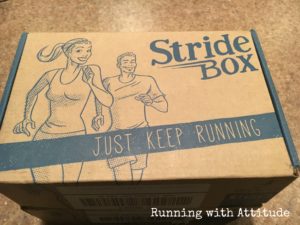 A great mix! – StrideBox offers a great combination of food/fuel options, running gear, and body care. This month's box included a Bonk Breaker energy bar, GU chews, two packs of Run Gum, VFuel performance drink, Hammer gel and Essentials reflective safety shoe laces.

 The Stride Guide.

– In each box you get the Stride Guide, which is a nice cheat sheet on what's inside the box with a suggestion on when to use each product (each item is coded for "before" "during" "after" or "always").

No long-term commitments.

  – I really like that StrideBox offers an easy monthly subscription you can stop at any time.

Affordable!

  – StrideBox offers so much goodness for just $15/month.

Makes a great gift!

  – With each box offering such a great mix for both newbie and seasoned runner alike, and at a price that won't break the bank, StrideBox is a perfect way to give your favorite runner lots of running treats from both well-known and new brands  – and delivered right to their door! What's not to love?!
Check out my @StrideBox review & Giveaway! #stridebox #runnersgifts
Click To Tweet
Want to try one for yourself? The great folks at StrideBox have offered to give 2 RWA readers a free box to try! The giveaway will run from now until 11:59 p.m. on 12/21. Winners will be announced on Thursday, December 22nd. Good luck!