Happy Sunday all!
I have been enjoying a much needed, and rare, lazy Sunday. This was one of those weeks where I felt like I was running around like a chicken with its head cut off. It was a week that included feeling less than fabulous, one kid home sick from school, school events, parent teacher conferences, a big work event, and managing the usual shuttling of kids here and there. And, yes there was training mixed in there, too. I am t-i-r-e-d y'all! Today provided a much needed break.
Monday: While I woke up not feeling all that great, I kicked the week off with some early morning miles. – 3 miles done.
Tuesday:  The blech I was feeling on Monday got worse and I couldn't get my head off the pillow for my run. My oldest was also down and stayed home from school. Missed my tempo run and spent the day on the couch.
Wednesday: Strength day – glutes, hips and abs were the focus.
Thursday: Time to get running again – an easy 5K done.
Friday: With a big event for work planned for Saturday, I opted to get my long run done on Friday instead. I've been exploring new fueling options and with double digits on tap it seemed like a good time to try Tailwind Nutrition I had ordered last week. The humidity was back with a vengeance (dew point of 85!), but I got 10 miles in, and I'm happy to say Tailwind agreed with my stomach and my energy level felt pretty good…I'm cautiously optimistic.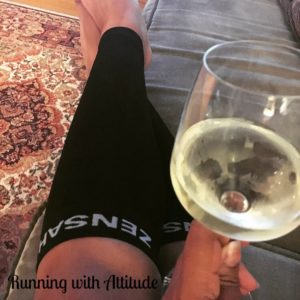 I must say it was kinda of nice having my long run out of the way before the weekend got going. We went to a school performance for my youngest son and then it was a quiet evening on the couch 🙂
Saturday: Ran the 4 miles that was originally on my plan for Friday. My legs felt really heavy and 95% humidity didn't help. There was a flurry of kids activities and sports to shuttle between and I short-changed my post-run rolling. By halfway through the evening event, my legs were really talking back to me! (Didn't help that I chose to wear heels – what was I thinking?!)
The upcoming week looks to be equally chaotic, and I know I've got to do a better job of being kind to my legs. I'll be running a local 5K with my son next weekend, which should be a lot of fun!
As always, I'm linking up with Tricia and Holly for the #WeeklyWrap. Head on over and check out all of the great ladies sharing weekly training, life happenings, motivation and encouragement.