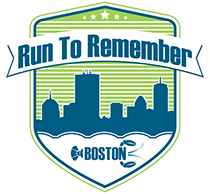 Training for Boston's Run to Remember is officially under way. As I mentioned over coffee, this will be my first half in two years – so my goals for this training cycle are simple:
Hit all of my workouts
Build my mileage slowly
Reach the start line injury-free
I want to use RtR to get back up to the half distance and lay the foundation for more rigorous training this summer. So how'd the first week go?
Monday 3/7 — Given how crazy my Mondays have been because of work lately, I've decided to make Mondays a strength day. I broke out the resistance bands and did a lower body workout I use to do when I was working with a trainer. My legs felt like jello when I was done!
Tuesday 3/8  — Woke up with a really upset stomach that stayed with me all day. So I decided to push my run to Wednesday and opted for some yoga.
Wednesday 3/9 — An absolutely gorgeous day  – temps in the 70's! I still didn't feel great and actually dressed too warm in a long sleeve shirt, but just didn't care. 3 miles done.
Thursday 3/10 — Still feeling really off – decided to listen to my body and took an unplanned rest day.
Friday 3/11 — 3 miles more.
Saturday 3/12 — As the weeks go on, Saturdays will be my long run day. For today, just 4 miles…with too many hills!
Sunday 3/13 —  More yoga.
All-in-all not a bad first week, especially since I didn't feel fabulous for most of it. I rolled like it was my job every night – and while that lacrosse ball is a little slice of torture, I do think it's helping. The good news is whatever bug I was dealing with didn't take hold and I'm feeling pretty and looking forward to week 2!
Linking up with Holly and Tricia for the Weekly Wrap.