I so enjoyed reading the different Day in the Life posts inspired by Jill & Angela – and since Jill said the link up was open for a few more days I thought I'd join in!
Since the school year started two weeks ago I must admit I've been struggling a bit to settle into a "typical" day and find a new routine.`Of late, most mornings the alarm goes off by 6 giving me a little time to meditate, become semi-coherent and then get my oldest up and moving for school.
Once I'm sure he's up, I head downstairs to see my morning BFF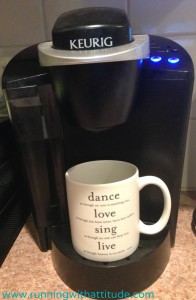 as I continue to work on becoming coherent. I check email, do some blog reading, prep breakfast for my son and lunch for my youngest. I chat with my son about his upcoming day while he eats and then ensure that he and my husband J are out the door on time. Now it's time for round two with the "tiny terror" – he's like me, slow to wake up so this takes a while – in between rounds I get the first of many loads of laundry started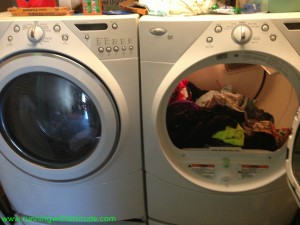 and get some more screen time in until he makes an appearance for breakfast. While I have not been loving having the boys on two different school schedules this year – I do love having one on one time with each of them in the morning before the day gets crazy.
Soon we head out to hang with our neigbors and wait for the bus. Once the great yellow beast has rolled out of sight I'm off and running – literally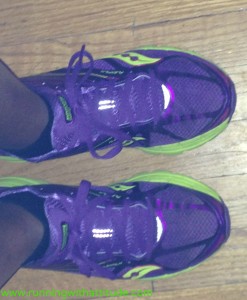 . Despite not being a natural early riser, I do miss the early morning runs of the summer – I liked that sense of accomplishment before the day even started…but for now, waiting until the kids are out the door just works better.
Post-run/workout, the morning is quickly filled with work, blogging, more laundry and errands.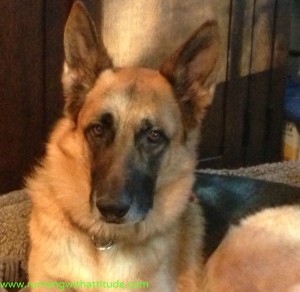 Eventually this big guy will demand some play time  – so there's either a walk or lots of running in the back yard. Some days, like yesterday, I manage running errands and grabbing lunch with a friend – which makes the errand thing so much better! On other days, there's more work in front of my computer, mixed with doing stuff around the house (a definite advantage of working from home!)
Before I know it's time for the bus and my youngest is home excitedly chatting about his day. Depending on the day of the week, I then have to race out for carpooling duties. With everyone home and settled, it's all about homework and dinner prep – unless there's an evening school event – which was the norm this week.
I'm trying hard to get us all to the dinner table at least 3 nights during the week. By 8 we start winding down for the day – the tiny terror is lights out by 8:30 and by 9 my oldest is hanging in his room reading. For the first time in hours, the house is quiet – some nights J and I just veg in front of the TV – especially if football's on. Otherwise, the laptops are still up and going for both of us. I'm naturally a night owl and have to force myself to head to bed by 11.
Head on over to Fitness, Health & Happiness to check out the link up for other Day in the Life posts!