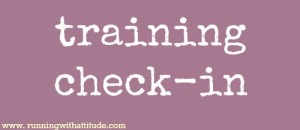 Good Monday Morning!
Today is a rare Monday rest day – and after 3 straight days of running, including hill work, my legs are happy to have a break!
And as it turns out, my youngest who's been down sick all weekend is home today from school 🙁 So it's a good day for cuddling, quiet games and laying low.
I'm really looking forward to going back to my Pilates barre class on Wednesday. Last week's class was a killer in a good way – especially tapping into those stabilizing muscles that will hopefully help my runs.  I'm also really looking forward to returning to Track work Thursdays! I know some people loathe the track, but  I always feel at home there – plus I find running the repeats really helps with my pacing. I've also got a sports massage scheduled this week – a nice little reward to look forward too!
What are you looking forward to this week?