While there was a lot of family fun in July –  my running was a bit of a mixed bag. But, it's a new month and I'm ready to kick things up a bit!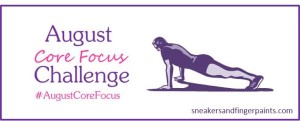 Kat over at Sneakers and Fingerpaints is hosting the August Core Focus Challenge! I've done a couple of ab/core challenges before and this one looked like fun and a perfect way to help get me on track for my fall races, so I'm in!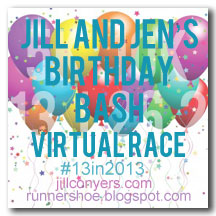 Another great way to kick things up? A race of course 🙂 Given that we're in the dog days of summer there isn't much to pick from on the racing front around here until September – so why not go virtual? Jill & Jen, the great ladies behind the #13in2013 Challenge are hosting a Birthday Bash Virtual Race in honor of their birthday month! You pick the distance and the day and for added incentive there are some fun prizes involved. August is my birthday month too and this is just the extra motivation to help me through one of my race pace runs.
I'm also thinking it's time to mix things up with my cross-training so I'm returning to Jillian Michael's Ripped in 30. I tried this DVD out last summer and it definitely helped to keep things interesting. Just like last time, because of my schedule and making sure I get all my runs in,  I will probably not do this workout for 30 days straight – but nonetheless Jillian is sure to keep me on my toes!
What have you got planned for August?